The columnist was admonished and swiftly corrected by BBC 'Daily Politics' presenter Andrew Neil, who was interviewing Hopkins on a petition calling for her ally, the Republican presidential-hopeful, to be denied entry to the UK on "hate speech" grounds.
She tried to claim that 33% of Brits "stand strongly behind Trump", despite the call for him to be barred for "Islamophobic" speeches being supported by over 500,000 people.
Hopkins responded to Neil, who confronted her with the latest poll of Brits' attitudes to Trump showing that two-thirds of people did not agree with him.
"I still would say to you, Andrew," she insisted, "yesterday I was quoting figures of 25% of British people stand very strongly behind him so you're now giving me an extra percentage there."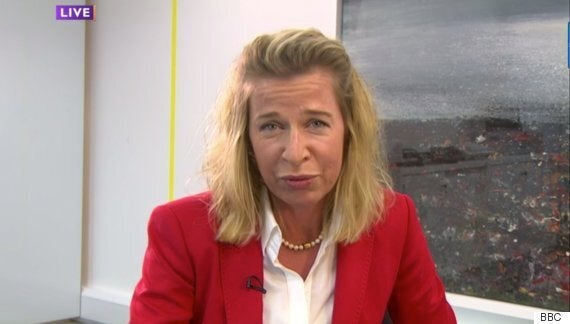 Hopkins made an extraordinary appearance on the 'Daily Politics' show
She continued, before being interrupted by the unimpressed Neil for getting her maths wrong: "It's a THIRD of people stand strongly behind Trump and I don't think that message-"
The 'This Week' frontman then swiftly proceeded to admonish Hopkins, painstakingly explaining to her: No, no, no - that's not how polls work."
He explained: "Two-thirds are against him, a smaller percentage don't know and a smaller percentage are in favour of him.
"That's not how polls work."
Despite the embarrassing encounter, Hopkins persisted, instead changing her line of attack to skewer the BBC's previous use of polling data.
She hit out at "your polls", claiming the BBC had said the 2015 general election would be "neck-and-neck", before having to be corrected by Neil once again.
"The BBC doesn't have polls," he reminded her.
"The one poll [the exit poll] it did have actually got the result spot on on the night."