Robert Dyas has launched a cringeworthy Christmas advert - and nobody knows how to react.
In the minute-long film, staff are seen confessing their sexualities while highlighting a series of seemingly unrelated products in the store.
Bizarrely, the firm is promoting the video with the hashtag #DyasComingOut - furthering the sexual preference theme.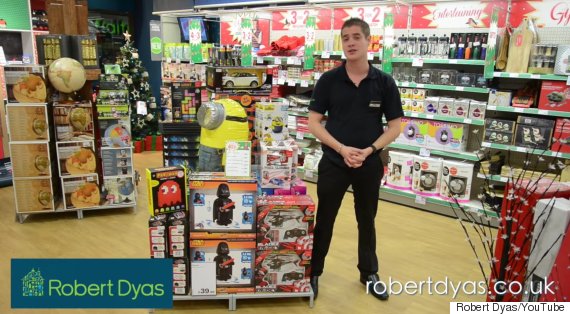 View the full video, above
SEE ALSO:
Unsurprisingly, it's left people throughly perplexed online.
@RobertDyas Jesus! Cringe 🙈

— Sam Chamberlain (@mamph_) December 13, 2015
@RobertDyas this is cringeworthy!

— Phil (@philswales) December 13, 2015
@RobertDyas weirdest ad ever.

— Dave Lamont (@davelamontuk) December 13, 2015
@RobertDyas "Hi, we're a shop, and legally required not to discriminate on grounds of sexuality. Because we're a shop. Yay!" Bonkers ad.

— wildlinginthecity (@wileycal) December 13, 2015
There were theories to explain Robert Dyas' reasoning.
@RobertDyas basically, the company's CEO dropped a gay joke last night at the Xmas party. This was his drunken apology, filmed same evening.

— Patrick Kennedy (@PK_Anderson) December 13, 2015
@RobertDyas What did the rest of the marketing budget get spent on?!

🍻🍻🍷🍷🍷🍸🍸🍸🍹🍹🍹🍻🍻

— Russell Turner (@TurnerDigital) December 13, 2015
Others took it seriously.
@RobertDyas omg this is awful! Bad decision Robert Dyas!

— Kerry Cahill (@kezzacahill) December 13, 2015
@RobertDyas who cares what a persons sexual preference is or what they buy!! Seriously get a grip Robert Dyas it's 2015 not 1900s!

— Daniel Brand (@danbrand25) December 13, 2015
@RobertDyas there's nothing quite like a wildly misguided piece of marketing.

— Craig Cooper (@plgrmco) December 13, 2015
@RobertDyas desperate marketing attention plea?

— Riotous Rockers (@RiotousRockers) December 13, 2015
But maybe they missed the point?
Judging by the comments, a lot of people have missed the point of the @RobertDyas advert. Surely it's DELIBERATELY cheesy?

— Sneezy (@happyandbashful) December 13, 2015
Well, that's one way to make your low-budget Christmas advert go viral...
And it seems Robert Dyas may have been inspired by this parody commercial, created in 2009.