A Russian warship has reportedly fired warning shots at a Turkish fishing vessel in the Aegean Sea to avoid a collision, in an incident
that comes just weeks after Turkey shot a Russian fighter-jet out of the sky.
According to a statement from the Russian defence ministry the Turkish vessel approached to 600m (1,800ft) before turning away in response to Russian small arms fire.
The Turkish military attache in Moscow has been summoned to the foreign ministry over the incident, the BBC reported.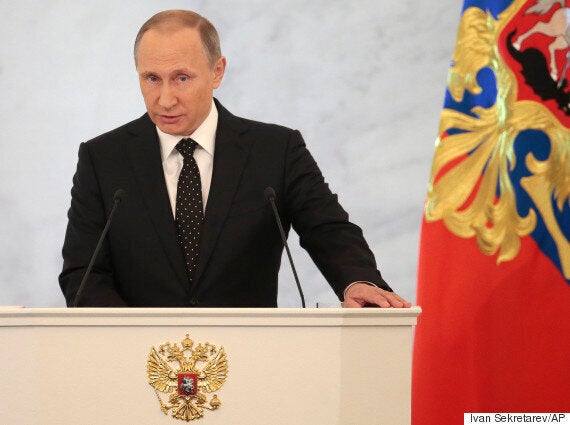 A Russian warship has reportedly fired at a Turkish fishing vessel in the Aegean Sea, as tensions continue to simmer between Turkey and Vladimir Putin
Relations between the two countries have remained tense since Turkey shot down a Russian SU-24 bomber it claimed invaded its airspace near its border with Syria, on November 24. Russian denies it entered Turkish airspace and president Vladimir Putin later called the incident a "stab in the back".
Last week Turkey also complained that a sailor on a Russian naval ship was brandishing a missile launcher as the vessel passed through Istanbul. Russia defended the action saying the crew had a "legal right" to protect their ship.
The Russian defence ministry said its frigate Smetlivy spotted the fishing boat when it was 1,000m (3,000ft) away heading towards the Russian vessel's starboard side.
The ministry said in a statement: "Despite numerous attempts by the crew of the Smetlivy, the crew of the Turkish fishing boat did not make radio contact and did not respond to visual signals by semaphore or warning flares.
It said in order to prevent a collision, small arms were "fired in the direction of the Turkish vessel from a range that is not lethal".
Russian military vessels are involved in Russia's intervention against rebels in Syria.
Turkey's Foreign Minister Mevlut Cavusoglu warned on Friday that Ankara's patience with Russia was "not unlimited", and accused Moscow of using "every opportunity" to punish Turkey for the downing of the plane, the BBC reported.