A man has taken his love for Cornwall to a whole new level... By having its most famous sights inked onto his arm.
Michael Laity spent 28 hours turning himself into a walking guide book to Cornwall by getting his favourite tourist attractions tattooed onto his body.
He had the work done in tribute to his family links to the area and Cornish heritage.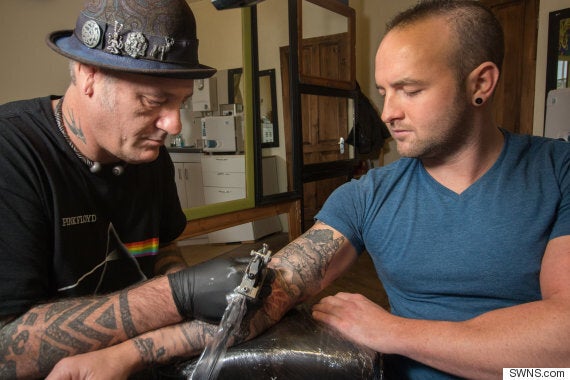 Michael Laity getting inked at Lodestone Tattoo parlour
Laity, 25, had the work done at Lodestone Tattoo parlour in Cornwall, after spending hours debating which attractions to include.
The designs include popular sites visited by millions of tourists each year, such as St Michael's Mount and Pendennis Point in Falmouth.
He's also got South Crofty tin mine, the Mermaid of Zennor, Mount Edgcumbe House near Torpoint and Carn Brae monument.
The carpenter from Illogan, Cornwall, said: "I'm Cornish born and bred, and wherever I am I will always be reminded now that Cornwall is my home.
"It's something different to a tribal design and I have been thinking about having this as a tattoo for two years.
"People have tattoos to mark an important date, or in memory of someone, so I decided to have a design that was close to my heart, and that's Cornwall."
He added: "Carn Brea is my favourite of all of them because it's closest to my home. It took me ages to decide on what I wanted and it also took me ages to find a tattooist that I felt I could trust."
Laity said his family were initially against the idea, but have since warmed to it.
He said: "They've totally changed their minds on it now. I think they are proud of it.
"These scenes mean so much to so many. It is always a pleasure when someone feels so strongly about a place that they get it marked on their skin.
"We have taken some serious hours to put this tattoo together and it has been fun placing each piece together.
"I hope, in time, people will see this in the flesh, so to say, and more to the point, that it puts a smile of familiarity on their face."