Most Britons disagree with placing transgender women in male prisons, according to a new poll for The Huffington Post UK, which will add more pressure on the government to change "bonkers" rules described as "out of step with public opinion".
The findings come amid debate ignited by the deaths of two young trans women in all-male prisons, and the high-profile relocation of inmate Tara Hudson.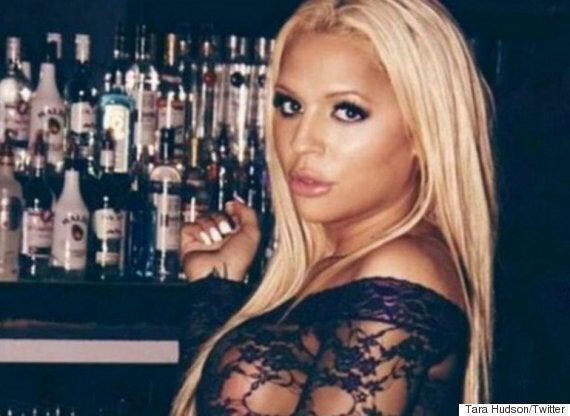 Tara Hudson, who had lived as a female all her adult life, was moved to a women's prison after a public outcry
The exclusive YouGov research, which also reveals most Brits are comfortable with transgender people using the same public toilet facilities and would support a trans child, puts further pressure on the government to change the rules around where transgender prisoners are located, which have been called "not fit for purpose".
Only one in ten (12%) Brits think a trans woman should be sent to a men's prison, while one in five (20%) aren't sure.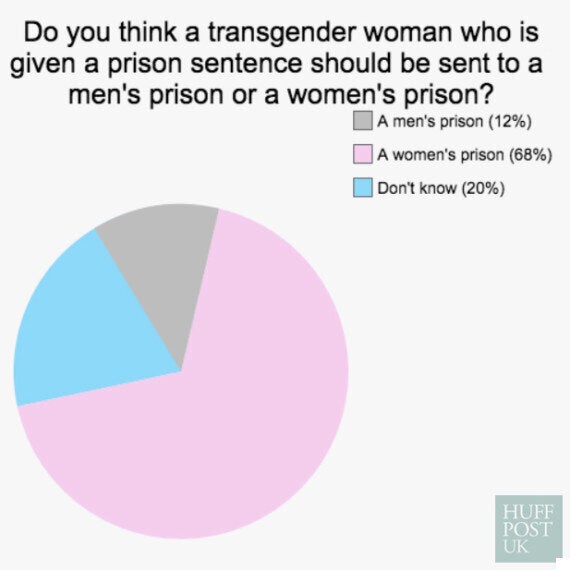 Shadow Minister for Equalities Cat Smith said: "These findings show that the reality transgender prisoners face - being placed in their birth gender prison - is out of step with public opinion.
"Most people now recognise that transitioning gender is a legitimate decision people take and are accepting people to live in that gender."
Vicky Thompson, a 21-year-old transgender woman, was found dead in her cell in November after being placed in a men's prison in Leeds, after reportedly telling friends she would kill herself if she was sent there. Weeks later, Joanne Latham, 38, was found hanged at a men's prison in Milton Keynes.
Tara Hudson, who has lived as a woman all her adult life and claimed she was sexually harassed in a men's prison, was relocated to a women's facility in November after nearly 160,000 people signed a petition calling for her to be moved.
Transgender prisoners are normally placed according to their legally recognised gender, meaning they need a gender recognition certificate which then allows them in turn, to change their birth certificate. Though the government guidance allows "discretion" in decisions, neither Thompson, Latham or Hudson had the certificate and all were sent to men's prisons.
Jane Fae, a transgender campaigner and journalist, said the poll's findings were "a very good thing" for trans prisoners.
"Ninety-nine times out of 100, that's going to be the right answer. If you look at Tara Hudson, can you imagine putting someone like that amongst a group of largely undisciplined, criminal men? You know what is going to happen to them, and the idea that we should put them anywhere other than the female estate is bonkers."
"Here is someone who is working their way towards getting that surgery, who is looking every bit a woman, but they don't have that magic certificate."
Dr Jay Stewart, co-founder of Gendered Intelligence, said trans women were vulnerable and exposed when sent to men's prisons. "Those who do not have Gender Recognition Certificates (and many trans people don't) are not being respected and treated in their self identified gender in instances such as these," he told HuffPost UK.
"Whilst guidance states that decisions can be made on a case-by-case basis, I wonder if the decision makers have the confidence to put a person in a prison that does not correspond to the gender markers on their birth certificates? There is fear and ignorance that we still need to overcome through education."
Fae told HuffPost UK: "When the Tara Hudson thing first came up I was going into interviews saying 'If we're not careful, someone will die.' We're now two deaths further on, and we can't say it's because of the policy, but I think it's very clear that the policy may well be linked in some way."
She claimed she had heard anecdotes of "rampant" transphobia and homophobia among prison staff, trans women prisoners being denied female makeup and clothes, and "at least one case" of guards refusing to give a woman her prescribed hormones. "If that happens, if you're pre-op you get depressed, post-op it tips you into menopause and osteoporosis. It's not just a lack of respect, it's medically dangerous."
"What we think is going on now is that the prison service is out of control."
An ongoing review into how transgender prisoners are allocated was widened last Tuesday to cover the care of trans people across prisons, probation services and youth justice services.
Helen Belcher, a transgender rights campaigner and founder of Trans Media Watch, said: "The reliance that the English Prisons Service seems to place on paperwork while the public rely on appearance indicates that government is significantly out of step with public opinion.
"Hopefully this will feed into the review announced on Tuesday and generate a more sympathetic and sensible policy, such as that used in Scotland."
The poll findings were welcomed by Liberal Democrat leader Tim Farron who claimed the country's views were changing.
Farron told HuffPost UK: "These findings point to shifting attitudes.
"It's sad that it has taken the death of two women for the Government to take action."
The HuffPost UK research also found that most Britons are comfortable with sharing public toilet facilities with a transgender person (67%) – an issue that has been a "bette noir" for trans people according the Belcher.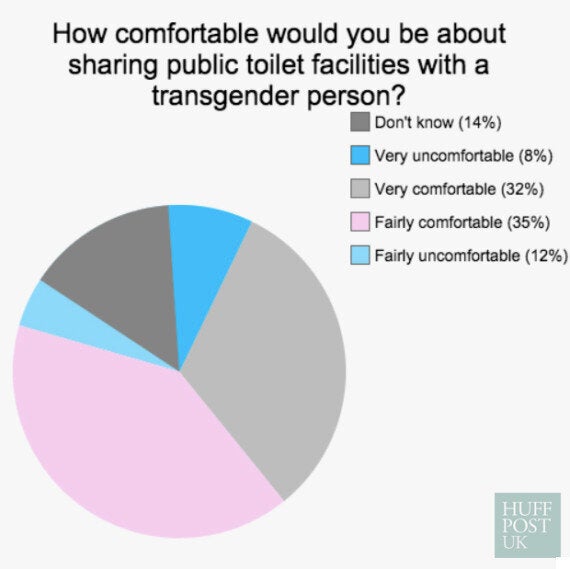 This is a sharp contrast with the situation in the US, where a 2014 survey found 59% thought trans people should use a toilet that corresponds with the gender they were assigned at birth.
But quarter of British men would still be uncomfortable sharing public toilets with a transgender person, reflecting an overall trend that men are less comfortable with transgender people than women.
Belcher said: "This bette noir has relied on the flawed idea that trans people are immediately identifiable as such. Most people use public toilets for the obvious purpose. It's never been clear why trans people should be universally assumed to use them for a different purpose.
"As far as I'm aware no trans person has ever been accused of assault in a public toilet, although several have been assaulted. So the survey finding is good news, although there is obviously still a way to go with men."
Stewart called on British businesses and services to join the growing number offering gender neutral toilets, saying: "No more gender binaried toilets please."
The majority of Brits (69%) would also support their child if they wanted to change sex, while only 10% would refuse to support their child.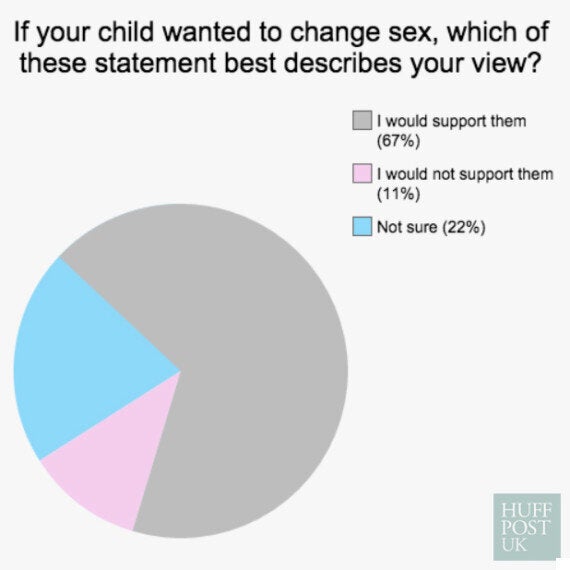 But a only a quarter of Brits (25%) would be happy if their child wanted to change sex - more than a third (39%) would be actively unhappy.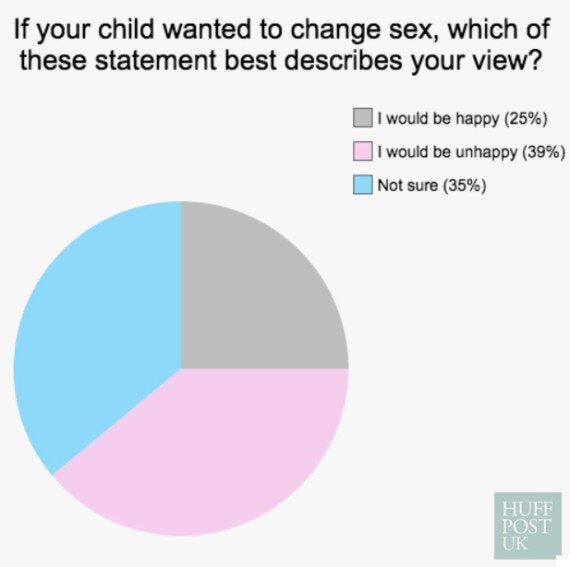 Belcher, of Trans Media Watch, said: "I think that support is the key indicator here. As people start to understand what trans people have gone through, it's understandable that parents would be reluctant to wish that on their own children, although I'm relieved that most parents would now support a transitioning child.
"But this means that we need to continue to remove the unnecessary struggles and stigma from trans people's lives, so that a child transitioning to realise their true selves becomes a celebration rather than a concern."
Stewart added: "I imagine the reason why many parents and carers are not 'happy' to think that their child may be trans is because they are worried and concerned about them. The world is not that friendly and accommodating of trans people - that's why they're not 'happy', not because they are transphobic."
The two questions about trans children were asked by PinkNews in March, but the responses have changed little despite a significant rise in media coverage of transgender issues over the last nine months.
The research responses suggest several broad trends: women tend to be more supportive of trans rights, and comfortable with trans people, than men. Younger people are more supportive and comfortable than older people, and Labour or Liberal Democrat voters more inclined to be supportive and comfortable than Tory or Ukip voters - a quarter of Ukip voters think a transgender women should be put in a man's prison, compared to the average of 12%.
Those of a higher 'social grade' also tend to be more supportive and comfortable than those with less income. And in terms of region, Londoners are by far the least supportive and comfortable group.
Paul Twocock, of Stonewall, said: "While it's encouraging to see an increase in trans visibility and allies to the trans movement – there is still so much left to do until all trans people are accepted without exception and are treated equally. Until figures like those in this survey are at 100 per cent, our work continues."
The YouGov research was conducted as an online survey between 2 and 3 December 2015, and asked 1,672 people for their views. YouGov is a member of the British Polling Council and abides by their rules.
Useful websites and helplines: