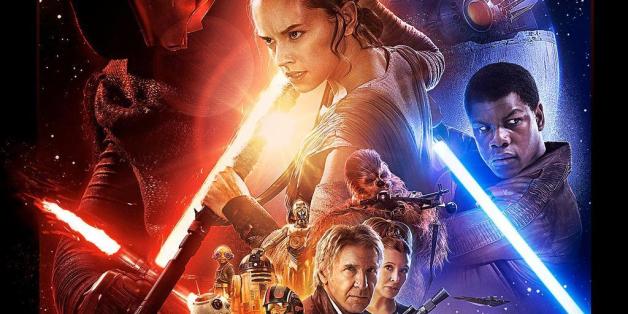 Disney / Lucasfilm
The 'Star Wars: The Force Awakens' premiere took place on Tuesday evening, and while no full reviews have been published as of yet, a number of critics couldn't resist sharing their views on Twitter.
Full reviews of the movie are expected later this week, following the European premiere, however if these early hints are anything to go by, fans are in for a treat:
Star Wars: The Force Awakens spoke to my every emotion. Most of them good, a few not, but overall it was an amazing, overwhelming experience

— Germain Lussier (@GermainLussier) December 15, 2015
#StarWarsForceAwakens totally delivers #nospoilers I repeat #nospoilers again #nospoilers just #wow pic.twitter.com/SD4odRnTZZ

— Elizabeth Banks (@ElizabethBanks) December 15, 2015
J.J. nailed it. #StarWarsForceAwakens is wonderful.

— Amy Hennig (@amy_hennig) December 15, 2015
1st Star Wars review: it was epic, awesome & perfect. The cast was stellar. JJ killed it!

— RainnWilson (@rainnwilson) December 15, 2015
How was Star Wars? Great. Nothing more to say. Just go. #spoilerfree

— andrew stanton (@andrewstanton) December 15, 2015
While journalists were asked not to share spoilers, a few have hinted at what fans of the franchise can expect.
The following tweets do not quite constitute spoilers, but if you'd like to remain *totally* in the dark, look away now.
We repeat, look away now.
Order of cast prominence, in ascending order

5) Driver

4) Boyega

3) BB-8

2) Ford

1)Ridley

December 15, 2015
Among its many wonderful qualities, STAR WARS: THE FORCE AWAKENS passes the Bechdel test.

— Rebecca Keegan (@ThatRebecca) December 15, 2015
And without spoiling it, I can say that #StarWarsForceAwakens has the BEST final shot of any Star Wars film. Wow.

— Patton Oswalt (@pattonoswalt) December 15, 2015
The whole film's cast were out in force at the LA premiere, and John Boyega and Daisy Ridley led the arrivals on the red carpet.
Stars of the original trilogy Harrison Ford, Carrie Fisher and Mark Hamill also posed for snaps, and naturally, a few Storm Troopers turned up too.
Check out all the snaps from the event below…
LIKE US ON FACEBOOK | FOLLOW US ON TWITTER