There is one week to go until Christmas Day and speculation is growing as to whether snow could fall this year.
Although statistically snow has fallen on Christmas Day 38 times in the past 55 years, December's unseasonably warm weather this year has left many in doubt that we will have a White Christmas.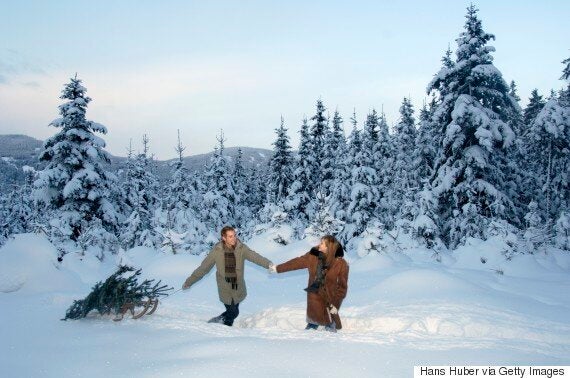 Hopes of a White Christmas this year remain slim
Kirsty McCabe, Senior Meteorologist at The Weather Channel UK, said that the unsettled weather is likely to continue through December.
She said: "With the dominant weather pattern for December looking likely to continue as unsettled with weather systems coming off the Atlantic.
"That would keep the UK on the mild side and the chances of snow much lower. But just like the weekend of the 21st November, if the jet stream moves to allow colder Arctic air in then we could well get that all-important festive snowflake."
In order for it to snow, there needs to be cold air and moisture in the atmosphere.
The air temperature does not need to drop below zero for snow to fall, as long as it is under 2C the temperature should be cold enough, said McCabe.
She added: "Over the past 55 years, a snowflake has fallen on Christmas Day 38 times and that's all you need for an official White Christmas."
Bookies will pay out as long as a snow flake has fallen on December 25 at a number of locations across the UK, including Buckingham Palace, Edinburgh Castle, the Millennium Stadium and Manchester's Coronation Street.
Bookies have lengthened the odds of it being a White Christmas across most parts of the country.
At the time of publication, the odds of snow on Christmas day were:
London - 7/1

Aberdeen - 9/4

Glasgow - 2/1

Belfast - 9/2

Birmingham - 7/1

Cardiff - 7/1
London - 8/1

Aberdeen - 7/2

Glasgow - 4/1

Belfast - 5/1

Birmingham - 7/1

Cardiff - 8/1
London - 5/1

Abderdeen - 11/4

Glasgow - 3/1

Belfast - 11/2

Birmingham - 6/1

Cardiff - 7/1
The Met Office said that there would be snow on northern hills around Christmas while the rest of the country will face a mixture of sunshine and showers.
In a forecast for the next 10 days, the Met Office said: "On Christmas Eve mild, wet and windy weather will return northeastwards across the country.
"Rain will be heaviest and most persistent in the north and west, with the best of the drier conditions across southeast England.
"Thereafter, the weather will remain unsettled, with spells of mild and wet weather interspersed by colder, showery conditions with snow on northern hills.
"It will also be windy at times with gales in places, again the north and west being most prone.
"Temperatures will be closer to average than of late, but still generally above, with only occasional, brief colder spells."
Related