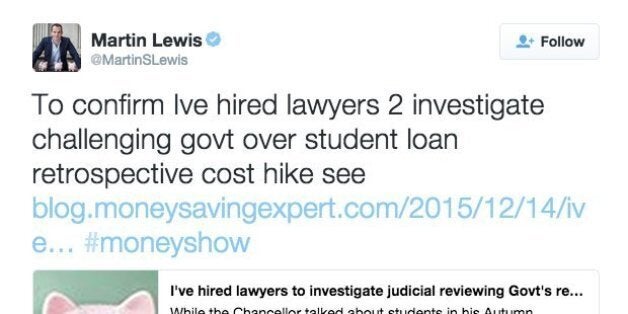 Money expert Martin Lewis has hired a team of lawyers to investigate changes to student loan repayments announced in George Osborne's autumn statement.
In November, the Chancellor revealed that the earnings threshold of £21,000 at which graduates must begin to pay back their loan will be frozen for five years. This means that students who have paid the higher course fees of £9,000 a year, which were introduced in September 2012, will face higher repayments, as the income threshold will not match increases in average earnings.
The government had previously stated that income threshold would increase annually from April 2017.
Lewis, founder of MoneySavingExpert and former head of the Independent Taskforce on Student Finance Information, a government-backed organisation, made the announcement he had hired a legal team to seek judicial review on his blog.
The money expert wrote: "And more so, as head of the taskforce, I told people that in 2017 the £21,000 repayment threshold was set to rise. I refuse to be – with hindsight – the Government's mule for mis-selling student loans.
"So tonight I'll also be announcing that in a personal capacity (ie, not MoneySavingExpert.com) I've engaged the solicitors Bindmans to investigate if there are grounds to judicial review this decision and to look at other legal grounds to challenge it (it may be people with student loans will need to agree to take cases – I doubt there'll be a shortage of volunteers). This by necessity is being done at great speed as there is only a short period in which to judicial review," Lewis continued.
"My view (and it may be nonsense hence why I'm engaging lawyers) is there are many areas of weakness in this announcement – primarily that this is an unfair change in contractual terms for students, one no commercial company would've been allowed to do. It could've chosen to do this only for new starters, that would've been reasonable (I'm not saying I support it, just I wouldn't have challenged it), but it didn't."
Lewis received support from students and parents on Twitter after making the announcement.
A spokesman for the Department for Business, Innovation and Skills told the Guardian that the decision to initiate the freeze was based on the fact graduate earnings had not risen as expected.
"When the £21,000 threshold was set in 2010, assumptions had to be made about earnings growth between 2010 and 2016.
"While the economic recovery is underway, it is not yet fully reflected in earnings, so the threshold is higher in real terms than originally intended.
"Making this change helps contribute to the current government's debt reduction targets."
Lewis promised to keep followers up to date with the legal proceedings via his blog and social media accounts.