Andy Murray has beaten sportspeople including boxer Tyson Fury to become BBC Sports Personality of the Year 2015 after one of the award's most controversial competitions.
Rugby player Kevin Sinfield was placed second, and Jessica Ennis-Hill took third place.
Campaigners said they were "disgusted" ahead of tonight's announcement, as Fury remained on the shortlist despite a mass outcry.
Twelve leading sportsmen and women were shortlisted for the award, including Fury who many critics claim shouldn't have been on the list after his controversial statements about gay people, women and abortion.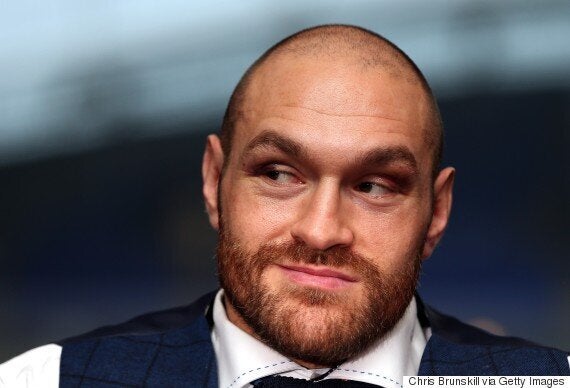 Tyson Fury sparked anger with his views
Critics that hit out at the champion included the betting company Paddy Power, which mocked him up in makeup and a gymnastics pose in a cheeky guerrilla marketing stunt.
Fury, the world heavyweight champion, was booed at the ceremony after he allegedly equated homosexuality with paedophilia, joked about being violent toward women, and said a woman's "best place is on her back".
Speaking on stage at the awards, Fury said his words had been "tongue in cheek" and apologised for "hurting" anyone who was offended.
Over 130,000 people have signed a petition calling for the BBC to remove the controversial fighter from its shortlist, but the broadcaster did not bow to pressure.
Gay rights campaigners picketed the Sports Personality of the Year venue ahead of the event at the SSE Arena, holding up banners reading "Furious at the BBC" and "knock out homophobia and sexism".
Paddy Power projected a rainbow banner onto the venue's wall to 'welcome' Fury. It showed a doctored image of him wearing makeup and doing the splits, adorned with a rainbow flower, with the words: "Don't be furious, be fabulous."
Eighteen-year-old Aoife Dowds-Gibson was protesting at the event and told the Daily Mail she felt compelled to take a stand. "I am disgusted by Tyson Fury's words and I don't think he should have been included in a personality award," she said.
In the run-up to the awards announcement, debate was still raging online. Some were incensed that Fury had remained on the list:
It's disgusting that Tyson Fury is even nominated for sports personality.

He may be alright at sport part, but his personality stinks!

— princess mononoke (@shleighmills) December 20, 2015
But others argued that his sporting credentials - beating Wladimir Klitschko last month to become Britain's first world heavyweight champion in six years - meant it was right for him to be included, and others said those booing were being "too sensitive":
Can't deny Tyson Fury's sporting achievement & shortlist for #SPOTY but the bloke is a total arse. Would be the least deserving winner.

— Peter Mahood (@PeterMahood) December 20, 2015
If Tyson Fury doesn't win SPOTY tonight it's a travesty. Only the third British fighter to ever become heavyweight champ

— Tommy 'Guru' Allan (@TomBoxingAsylum) December 20, 2015
Murray was one of the favourites to win at the live show in Belfast - a star-studded ceremony in front of an expected 7,500 people.
The tennis star, 28, helped make history by guiding Great Britain to their first Davis Cup victory for almost 80 years.
Others shortlisted included heptathlete Jessica Ennis-Hill, 29, who won her second world title in Beijing in August, just months after giving birth.
Others in the running include "king of the long jump" Greg Rutherford, who took gold at the World Championships, Formula One champion Lewis Hamilton, world road race cycling champion Lizzie Armitstead and runner Mo Farah, who also enjoyed success in Beijing, winning his third successive 5,000m world gold medal.
It is the first time the event has been staged in Northern Ireland.
The awards are being hosted by Gary Lineker, Clare Balding and Gabby Logan.
Last year the ceremony took place in Glasgow, when Hamilton took the crown, with golfer Rory McIlroy in second place and athlete Jo Pavey in third.