The Ministry of Defence said they would not take any combat role and would only provide advisory support.
But The Times reported the deployment included at least one SAS unit of around 30 soldiers who were backing American special forces and the Afghan National Army as they try to retake Sangin, in Helmand province, from the Taliban.
It's just over a year since David Cameron said the 13-year intervention in the country was over.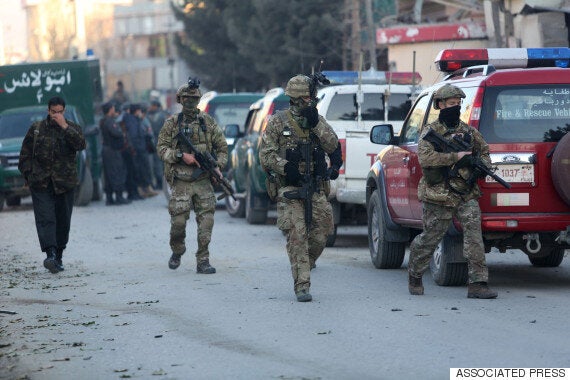 British soldiers in Kabul, Afghanistan, after explosions on 12 December
Sangin is a town with a population of around 14,000, and was former Taliban stronghold. It was central to the group's profitable opium trade, and more than 100 British troops died in or around Sangin during the Afghan campaign.
Reports from Helmand suggest militants are "close to overrunning" the strategically important town, the BBC said, with the province's deputy government saying it has been completely taken over.
The MoD refused to comment on any operations involving the SAS.
A spokeswoman said: "As part of the UK's ongoing contribution to Nato's Resolute Support Mission, a small number of UK personnel have deployed to Camp Shorabak in Helmand province in an advisory role.
"These personnel are part of a larger Nato team which is providing advice to the Afghan National Army. They are not deployed in a combat role and will not deploy outside the camp.
"In total the UK has around 450 troops in Afghanistan mentoring and supporting the Afghan National Defence and Security Forces and the Afghan Security Ministries."
General Lord Richards of Herstmonceux, a former Nato commander in Afghanistan, told The Times Britain and its allies should be prepared to increase the number of support troops in the country if needed.
He said: "It is important that the West honours its commitment to protect the Afghan people as well as the memory of those who fought and died there to keep us safe from extremism."
Sangin was the scene of fierce fighting during the Afghan campaign, with more than 100 British troops dying in and around the town.
From the start of operations in October 2001, 456 British forces personnel or MoD civilians were killed while serving in Afghanistan.
Nato's combat role in the country came to a close at the end of last year after a 13-year campaign.
Related