When mom is away, baby and daddy will play. :)*Cue "Mission Impossible" music!*

Posted by Beth Vaughn, RTV6 on Wednesday, 18 November 2015
A dad found an unusual but hilarious way to occupy both him and his baby while mum was away.
The baby's mission was to "fly" towards a tin full of chocolates and take one away.
With the help of dad holding onto the back of their bear onesie, the baby is lowered down towards the tin of chocolates like a fairground claw machine.
The video was shared by an American journalist on Facebook and has been viewed nearly two and a half million times.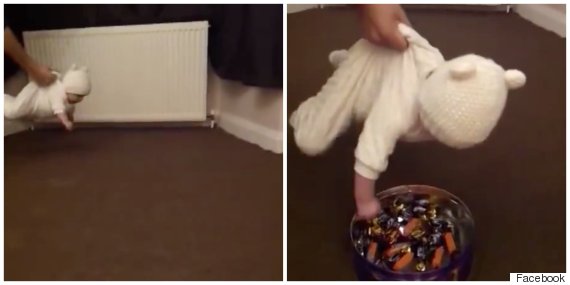 SEE ALSO:

What If Santa Was A Woman? Children Answer With Very Mixed Results

Three-Year-Old's Teary Explanation Of Why She Cut All Her Hair Off: 'I Was Just Practising'

Three Sisters Find Newly-Adopted Brother Under Christmas Tree, Can't Contain Their Excitement