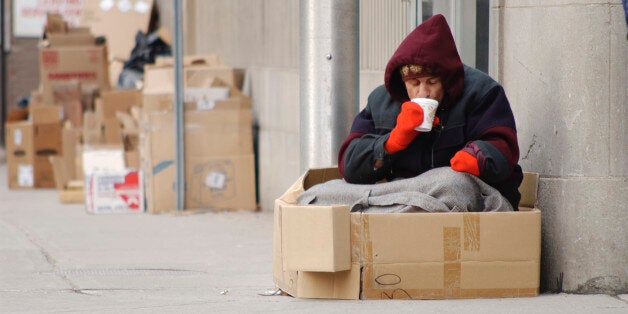 Thousands of young people across the United Kingdom are facing spending Christmas in shelters, B&Bs or on the streets as the housing crisis worsens.
Shelter recently released figures showing 100,000 children and young people will be homeless this Christmas and Crisis reported there has been a 14% increase in people sleeping rough in the past year.
Jon Sparkes, chief executive of Crisis, told HuffPost UK: "Christmas can be a lonely, isolating time for those without a home to call their own.
"This year has seen an alarming rise in the number of rough sleepers in England, all of whom deserve the shelter, companionship and support many of us take for granted at Christmas."
Centrepoint hosts around 1,000 young people over the festive period and want to give them a normal Christmas.
A spokesman said: "We keep it private and contained with no media. We don't want to make them feel like they're on display, we want to give them a normal Christmas."
HuffPost UK spoke to three Centrepoint residents about what Christmas will be like for them this year.
Felicia, who has been at Centrepoint for a few months, said: "I've had a rough few years but I'm looking forward to spending [Christmas] at Centrepoint.
"It's like a big family here, we're all going to get together and cook the Christmas dinner."
Brookemorgan, 17, has been at Centrepoint since July. She added, "This Christmas I am going to wake up at Centrepoint and then go to my family's house.
"Last year I was at my Nan's house, I woke up at four in the afternoon and couldn't wait for it to be over.
"Centrepoint has helped me improve my relationship with my mum. There's such a hype with the media, so much pressure over Christmas."
Another resident, Sky, spent last Christmas in a shelter.
"I did enjoy last it for what it was," he said, "I'm trying to take this Christmas to re-approach my life for next year. This year I'll go see my family and visit other people that don't have people to visit so they know they're not alone."
All three young people are looking forward to the New Year thanks to the opportunities Centrepoint has offered them.
Brookemorgan and Sky have just been awarded bursaries towards making a documentary and Felicia, who hopes to work in the music industry, will be continuing with her music lessons.
But not all homeless youths have this chance.
Government figures show (https://www.gov.uk/government/uploads/system/uploads/attachment_data/file/463017/201506_Statutory_Homelessness.pdf) that 99,080 children were among those living in temporary accommodation this year, and more recent data(https://www.gov.uk/government/uploads/system/uploads/attachment_data/file/443388/Homelessness_prevention_and_Relief_England_201415.pdf) suggests that there were around 2,700 people living on the streets in England in autumn 2014.
Charities and shelters across the country are hosting Christmas dinners and special events across the festive period for those in need.
All 14 of Crisis' shelters across England will be open on Christmas Day, providing a special meal. They will also be open all across the festive period and have extra volunteers at hand for their 'Crisis at Christmas' campaign.