Disgusting footage has emerged of a midwife appearing to bite and hit a four-day-old baby in hospital.
It shows the moment that the suspect reaches into the child's crib and savagely begins to attack, at the SofiaMed hospital in Bulgaria.
The nurse has been charged with attempted murder and was arrested after the child was seen to be suffering.
According to one news source, a medical check revealed the baby had a fractured skull and brain haematoma.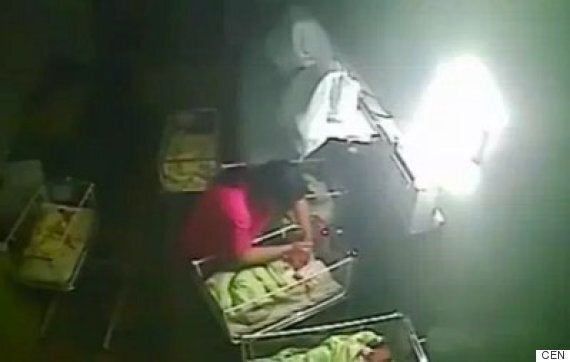 The midwife was caught on hospital CCTV footage
The Sofia Court of Appeals ruled that the midwife, who initially denied doing anything wrong until confronted with the video footage, should remain in custody.
She is facing a sentence of 15 to 20 years behind bars if found guilty.
The brutal attack was feared so severe that the baby would not survive or suffer permanent brain damage, but the child eventually made a full recovery.
The prosecution's case is that she was frustrated by the fact that the newborn would not go to sleep.
Related