The Labour Party's Christmas truce has ended after a senior MP called for Jeremy Corbyn to sack "mutineers" from his Shadow Cabinet who backed military action in Syria, prompting anger from colleagues.
Grahame Morris, who as an opposition "whip" is a key aide to Mr Corbyn, tweeted an article with the headline: "This is what Jeremy Corbyn should do in 2016 - starting with a reshuffle that gets rid of mutineers."
It comes amid reports of a Labour "revenge reshuffle" being considered that could see MPs who refused to back the leader's opposition to airstrikes sent to the back benches.
Eleven members of the Shadow Cabinet, including Shadow Foreign Secretary Hilary Benn and Shadow Defence Secretary Maria Eagle, defied Mr Corbyn and could face the axe in the latest skirmish in the Labour civil war.
Fuel was added the fire after Shadow Chancellor John McDonnell, Mr Corbyn's right-hand man, failed to guarantee Mr Benn will keep his job.
The son of the late Tony Benn is particularly vulnerable given his celebrated Commons speech supporting the RAF action.
But he was chastised by fellow Labour MP Ian Austin, who referenced the serial rebellions launched by Mr Morris, MP for Easington, in the past. Critics have often pointed out how often Mr Corbyn voted against former leaders.
"Come on Grahame, name the 'mutineers'," wrote the MP for Dudley.
Arch Corbyn critic Jamie Reed, Labour MP for Copeland, also pointed out MPs had been handed a "free vote" by the leader - meaning there was no party line to follow.
Mr Morris's comments come from an article from The Independent in which Mr Corbyn is encouraged to act like a "good teacher or parent" and remove those who have "proven themselves unworthy of their position".
The Shadow Chancellor, meanwhile, said Mr Benn has an "important role" to play in any future Labour administration.
But Mr McDonnell would only say Labour leader Jeremy Corbyn is responsible for the decisions if there is a reshuffle in the coming weeks.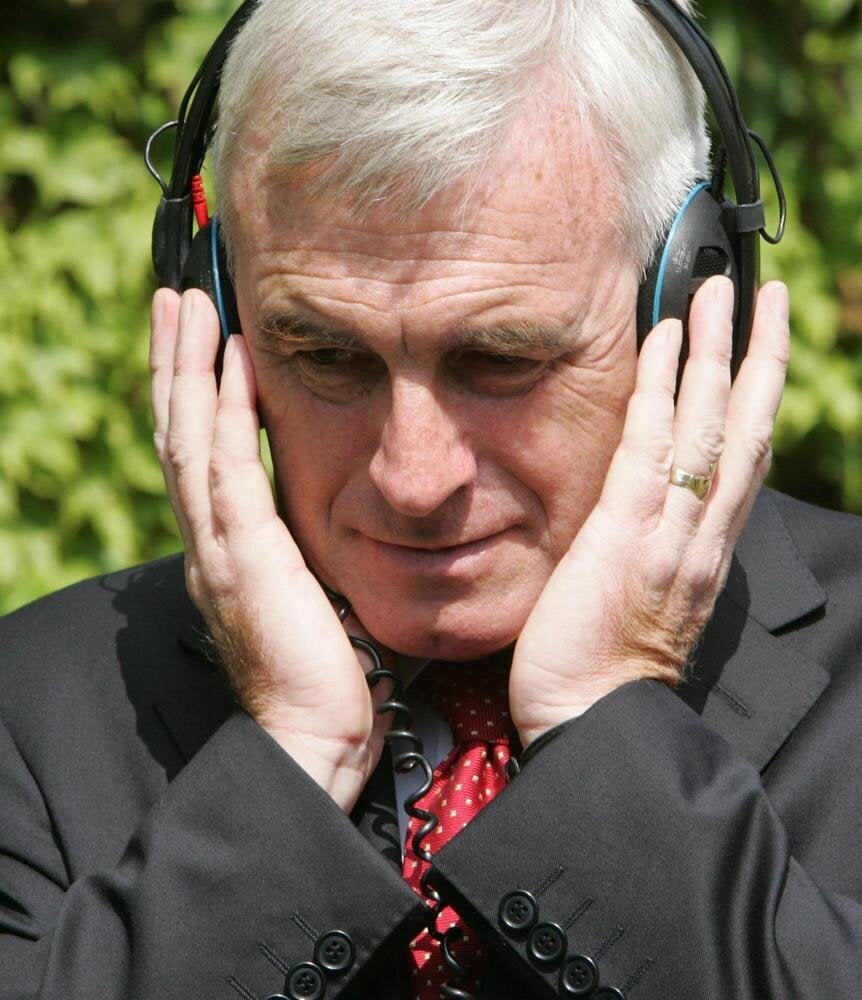 Jeremy Corbyn's shadow cabinet
Appearing on BBC Radio 4's Today programme, Mr McDonnell said: "Jeremy Corbyn is the leader of the party. If there's to be a reshuffle, he will announce that, I'm sure, in the coming weeks."
Told Mr Benn may like to know if he should focus on helping his constituents in Leeds with flooding rather than global issues, Mr McDonnell replied: "Hilary Benn has an important role to play in any future Labour administration.
"He's doing a great job in his constituency at the moment, as are a large number of MPs.
"I am hoping we can assist people in their homes in an emergency way at the moment, but more importantly they want to be reassured that politicians are coming together to take expert advice and develop a long-term plan."
Given a third attempt to clarify Mr Benn's future, Mr McDonnell reiterated the Labour leader will determine the party's future administration.