Amazon are donating all the profits from a song released by anti-immigration group Pegida to refugee charities.
It translates as: "The proceeds from the sale on Amazon of this song go to a charitable organisation for the support of refugees."
Translated from German, Pegida is an acronym for 'Patriotic Europeans against the Islamisation of the West.' The group has gained notoriety in its homeland for holding mass demonstrations against radicalised religion that often spill over into anti-immigrant sentiment.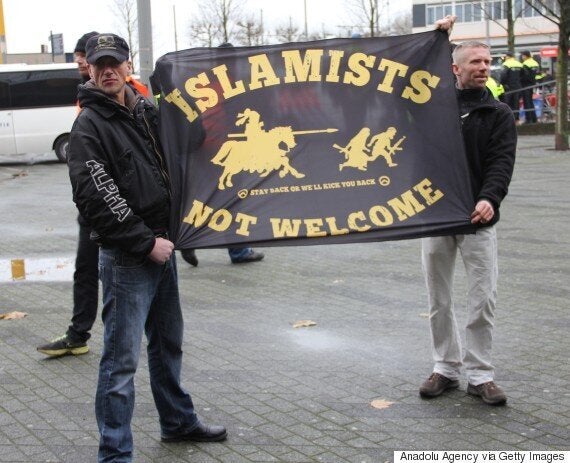 Two Pegida buffoons during a rally in the Netherlands
At an anniversary rally in October, speaker Akif Pirinçci bemoaned refugees, calling Germany a "Muslim garbage dump."
Robinson famously quit the EDL three years ago, disassociating himself from his former brethren while maintaining a strong stance against "Islamification of the UK."
Robinson, real name Stephen Yaxley-Lennon, is to "advise" the leadership of the new group, which will campaign for a moratorium on Muslim immigration to the UK, as well as place a ban on the building of mosques.
You can listen to the (terrible) single here...
Reviews for the single are far from positive - or sincere.
"My German shepherd Blondie seems also very pleased with this masterful piece of music history. Whenever I play the hymn she raises her right front paw and I must admit, even I get tingles in my right arm. I have never been so strong from a song and driven to polish my combat boots to a shine.
Unfortunately, the product does not work. I have repeatedly listened to the song with friends, but we are neither stronger nor more German.
Sounds shit, fits like chalk and cheese to Pegida.

Luckily Amazon donates its proceeds to Refugee Aid. Thanks for that.
"The only good thing here, that's money for charity, thank you amazon.

"listen, spare me, do not ruin your day with this unnecessary discharge me."
"Music by idiots for idiots. Your wanted to save the country, but have no plan. Your hate is never allowed."
Nicely played Amazon, nicely played.