"Hipster", "beautiful", and "allows you to pretend to be a pirate while shopping," aren't perhaps the usual descriptions for the coins we carry in our pockets.
Yet the latest commemorative designs for £2 pieces unveiled by the Royal Mint over the weekend quickly prompted a wave of adulation from the public on Twitter.
William Shakespeare is commemorated in two designs, with a skull aside a thorny rose, and a sword through a regal crown both aiming to pay tribute to The Bard's canon of work.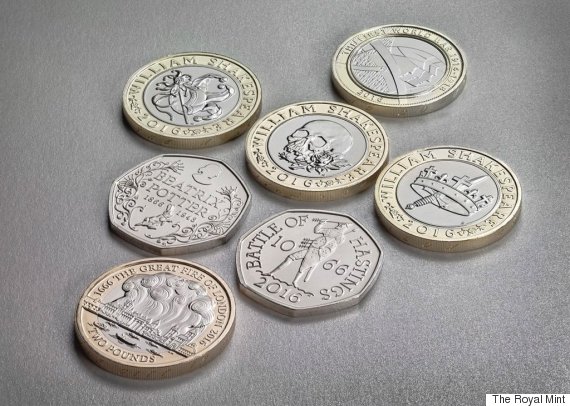 The new 2016 coins
Meanwhile another literary giant, Beatrix Potter, is commemorated on two 50 pence pieces evoking her most famous character Peter Rabbit.
The Battle of Hastings is also featured in the batch of special coins, all of which will enter circulation this Spring.
The stark image of a skull alongside the gothic lettering on Shakespeare's coins has led many to hail the currency as Britain's best yet.
The UK is getting some new coins. We definately have the coolest money in the world. pic.twitter.com/YLfwEuGJEY

— Freddy (@OshiSeven) January 2, 2016
New British Coins reference Shakespeare and, quietly, Great #British #Gothic heritage! pic.twitter.com/bl6CufrRTd

— The New Year's Goth (@TheBloggingGoth) January 2, 2016
I've never been into coin collecting, but I'm definitely gonna snag some of those new £2 coins. 💀 pic.twitter.com/03kNz2Pe9B

— timoni west (@timoni) January 1, 2016
The new £2 coin is so Hipster.. pic.twitter.com/D2Ar4sQlom

— GazzyTube (@GazzyTube) January 2, 2016
The new £2 coin celebrates an important historic anniversary - & you can also pretend to be a pirate when shopping! pic.twitter.com/1Dd9HmvPEZ

— Myko Clelland (@DapperHistorian) January 2, 2016
Love the new £2 coin. Shakespeare, a skull and roses. Magic in your pocket. pic.twitter.com/GJV0JOXujo

— Ian 'Cat' Vincent (@catvincent) January 2, 2016
DUDE OUR NEW £2 COIN IS METAL ASF pic.twitter.com/i7D8nR4CBf

— Utorak (@Utorak007) January 1, 2016
@AnnaBibliophile @RoyalMintUK AND SHAKESPEARE ONES - LIKE THREE OF THEM 😻😻

— Nichola Vo (@always_rambling) January 2, 2016
Others used the skull of the design to quip about the state of the Labour party.
The new £2 coin appears to have been minted in commemoration of the Labour party, rather than Shakespeare.

— Dan Hodges (@DPJHodges) January 1, 2016
The 2016 designs are not the only recent change to Britain's currency.
Last month it was announced that the last ever batch of round £1 coins was produced at the Royal Mint in Rhondda Cynon Taff, Wales.
Britain's official coin maker says the new 12-sided design, which will enter circulation in 2017, is the "most secure in the world", designed to combat counterfeiting.