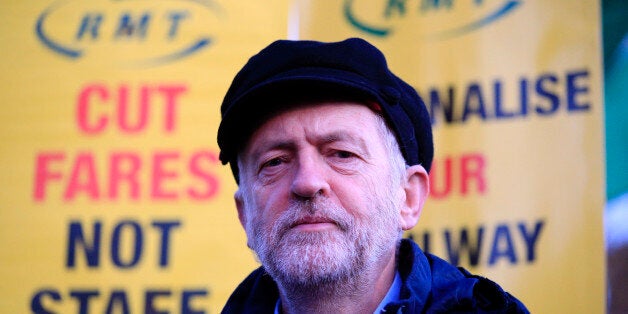 Jeremy Corbyn is set to start discussions on changes to his Shadow Cabinet today amid fresh warnings against a 'punishment' purge of his top team over defence and foreign policy.
The Huffington Post UK understands that the Labour leader is expected to hold his first meetings on the reshuffle, and announcements could come as early as this evening or tomorrow.
After discussions with key aides, 'one-on-one' meetings with individual Shadow Cabinet ministers are scheduled for this afternoon.
The leader's team refused to comment and Mr Corbyn was tight-lipped when asked about the issue at the launch of his party's campaign against Tory rail and Tube fare rises. "I'm not talking about the reshuffle this morning. There's no words about the reshuffle whatsoever," he said.
But with continuing speculation that Shadow Foreign Secretary Hilary Benn will be moved from his post, Shadow Foreign Minister Pat McFadden warned that using the Syria vote for a 'revenge reshuffle' would be "a risk" and "a danger" for Mr Corbyn himself.
The Labour leader has already told HuffPost UK of his anger at the Tory cheering that followed Mr Benn's now-famous Commons speech urging Britain join in military action against ISIL in Syria last month. The two men have not spoken since before Christmas.
Allies of Mr Corbyn have suggested Mr Benn will be moved, although senior sources have also dismissed suggestions of a 'job swap' with Shadow Home Secretary Andy Burnham.
He also stressed that Mr Benn had expressed his own opinion during a free vote on Syria
"If it's about political disagreement, I think you have to pause here - especially if it's about the Syria vote that took place last month because this was on a one-line whip, it was not on a three-line whip," he said.
"Also if you look at Jeremy Corbyn's own record, his whole career is based on disagreeing with party leaders so I think there is a danger for him in this, in carrying out a reshuffle as a sort of punishment for shadow ministers who've disagreed with him.
"He has talked of an open, pluralist kind of politics but a reshuffle for that reason could end looking more petty and divisive than open and pluralist politics. I think that is a risk for him if he proceeds for that reason."
Mr McFadden admitted that a reshuffle was now more likely than not.
"There's been a lot of press speculation which I think if there wasn't going to be a reshuffle could probably have been hosed down by now. So it looks like this will be more likely than not.
"Every leader has the right to change their team, that's their prerogative but it does strike me that it's only been 3 months since Jeremy Corbyn appointed his current Shadow Cabinet.
"One thing I would say about ... Hilary Benn and Maria Eagle is there is no questions about their competence to be shadow ministers. [Mr Benn] is highly competent and capable of being Shadow Foreign Secretary".
Shadow cabinet minister Michael Dugher, who could also be moved or axed, told Radio 5 Live yesterday the leader would end up with a "politburo of seven" at the top of the party if he attempted to surround himself with allies from the Labour left.
"In my experience having worked closely with previous leaders, there's a reason why they tend to be a bit reluctant to go down the path of big reshuffles and that's because they do try and hold the party together, they do recognise that the Labour Party is a broad church not a religious cult, that you need people of different backgrounds and try and get the best possible talents."
Parliament returns from its Christmas break tomorrow, making today the perfect day to unveil changes to the top team before Commons business resumes, according to some insiders.
Diane Abbott today dismissed as 'poppycock and piffle' claims that she would replace Mr Benn. Speaking to the BBC's Vanessa Feltz, the Shadow International Development Secretary: "It's completely untrue, I've never been offered the job of Foreign Secretary. There was never any question of me being offered it, or of it being debated."
Some of the leader's team blame leaks and counter-briefings on aides to Mr Benn, but it is understood that the Shadow Foreign Secretary is standing by his own staff.
Corbyn ally Clive Lewis is seen as a possible replacement for Ms Eagle as Shadow Defence Secretary, but some party sources suggest the risk of a walkout from her sister Angela, the Shadow Business Secretary and Mr Corbyn's stand-in at PMQs, is too great.
Mr Lewis told the BBC that reshuffles were "one of the benefits and perks of being a leader" and played down his chances of being offered a big job.
"If Jeremy Corbyn offered me that and said, 'I need this, I need you to do it, this is essential that you do it,' I would have to think about it," he said.
If Mr Benn is demoted or axed, those in the Shadow Cabinet who worry privately about the direction of the party may be forced to show their hand.
But with a huge mandate from party members, few MPs see any way in which Mr Corbyn can be removed from his post or forced off a fresh leadership ballot paper.
Sadiq Khan, Labour's candidate for Mayor of London, told Radio 4's Today programme that he was not "Jeremy Corbyn's man in London".
"Jeremy Corbyn isn't on the ballot paper in the May mayoral elections. Nor is David Cameron."