Chris Gayle on Tuesday battered away criticism and shutdown reporters who questioned him over his live-on-air proposition to Australia's Channel 10 sports reporter Mel McLaughlin, as it emerged the cricketer has been fined $10,000 (£4,800) for his remarks.
The Melbourne Renegades player made a brief apology to media for asking McLaughlin out for a drink during a TV interview after the Big Bash League game in Hobart on Monday, a comment he ended with the line, "don't blush, baby".
Arriving back in Melbourne from Hobart, Gayle dismissed the controversy surrounding the remarks saying, "a lot of things have flared up from a simple comment, a joke, a simple joke on air and it seemed to went out of proportion".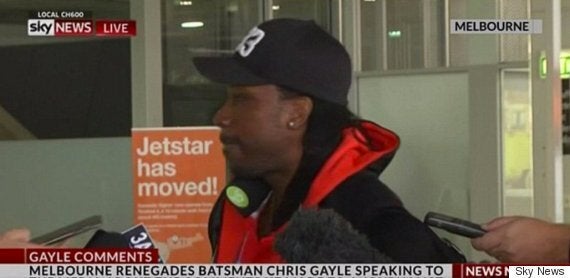 Chris Gayle walks away from reporters after giving a brief apology for remarks he made to sports reporter Mel McLaughlin
When the West Indies cricketer was interrupted by a journalist who informed him that McLaughlin was "pretty upset", Gayle abruptly told him to "be quiet and let me finish".
He continued: "There wasn't anything at all meant to be disrespectful or offensive to Mel and if she felt that way I'm really sorry for that.
"There wasn't any harm meant in that particular way to any particular person like that.
"It was a simple joke, the game was going on. Entertainment, things get out of proportion but these things do happen.
"There wasn't any harm done, I'll leave it at that. I'm sorry for that, we'll have to move on."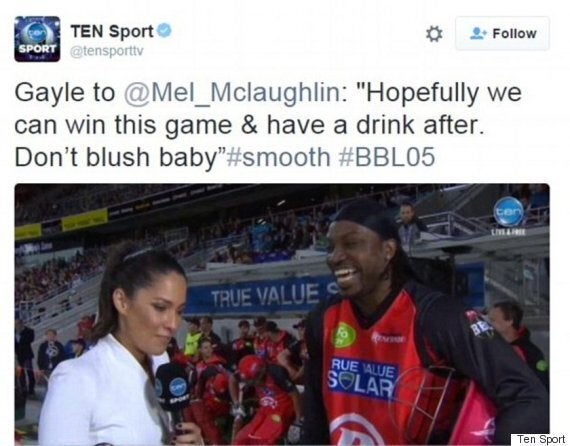 Channel 10 initially made light of Gayle's comments, but the network's boss on Tuesday condemned them
Seven News journalist Kate Jones then asked him why McLaughlin should feel uncomfortable in the workplace, to which Gayle replied: "Did she tell you that?"
Jones: "She told her boss."
Gayle then left the press conference saying, "all right, have a good day." Earlier he had said he had unsuccessfully tried to reach out to McLaughlin after his on-air remarks caused alarm.
McLaughlin was reportedly said to have been left "angry, upset and embarrassed" by Gayle's on-air pass.
The statement continued: "There is simply no place for these type of comments at the Melbourne Renegades.
"The club would like to extend a formal apology to Mel McLaughlin. Mel is an outstanding sports presenter. We think of her very highly and the club and players will ensure we work with her in a professional and respectful manner in future.
"We've had several discussions with Chris over the past day and he has acknowledged that his comments were out of line. We would also like to formally apologise to our members, supporters and the wider public for offence caused. The club is based on values of respect towards every member of the community."
The club, who are making a further comment on Tuesday afternoon, said it would donate Gayle's fine to the McGrath Foundation in "recognition of Jane McGrath day today". Jane McGrath was the wife of Australian cricket fast bowler Glenn McGrath. She died of cancer in 2008.
McLaughlin's Channel 10 boss, David Barnham, has made it clear that the exchange had "embarrassed" his reporter.
Barnham told 3AW Melbourne that McLaughlin was "a bit angry" and "upset", something that wasn't immediately obvious from the network's initial response to the exchange. It tweeted: "Gayle to @Mel_McLaughlin: 'Hopefully we can win this game & have a drink after. Don't blush baby'. #smooth #BBL."
Banrham told 3AW Melbourne: "She was asking him legitimate questions about cricket and he ended up talking about her eyes, so she was a bit taken aback.
"She was embarrassed, it was a bit demeaning."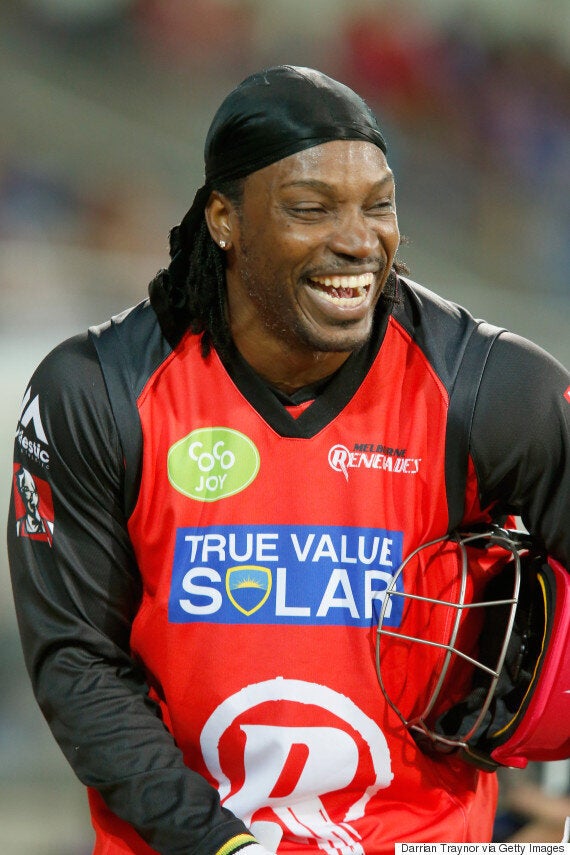 Gayle leaves the pitch in Hobart on Monday
Barham described Gayle's comments as "highly inappropriate", and called for the cricketer to apologise.
Gayle spoke to McLaughlin after making 41 runs off just 15 balls in his team's T20 win in Tasmania.
After answering McLaughlin's initial questions about his performance and on-field partnership with Australian Aaron Finch, Gayle then proposed a date.
The 36-year-old said: "I wanted to come and have an interview with you as well, that's the reason why I'm here... to see your eyes for the first time.
"Hopefully we win this game and we can have a drink after, don't blush baby."
McLaughlin, remarked that she wasn't "blushing", before trying to continue the interview.
Gayle then tried to play another shot. After being asked about an injury he suffered Gayle said he hoped to stay on the field for the remainder of the series, before adding: "Hopefully I can recover and look in your eyes."
The interview then ended.
Gayle is not the first West Indies cricketer to try and woo McLaughlin.
In 2014 Dwayne Bravo shared a message for the sports commentator after a post-match interview with one of her colleagues, saying: "I just want to say hello to Mel, beautiful Mel."
Bravo continued: "I was lucky enough to meet her once in Sydney (and) I just want to say hi and I see she's still looking beautiful."
Shortly after the incident on Monday night, Big Bash League Anthony Everard chief executive released a statement on Twitter.
It said: "I heard Chris' comments and they're disrespectful and simply inappropriate. We'll certainly be talking to him and the Renegades about it. This league is all about its appeal to kids, families and females. 'There's just no place in the BBL - or, for that matter, cricket anywhere - for that sort of behaviour."