Experts have expressed doubts about the widely-reported claim that thea British Islamic State executioner who featured in the group's latest video is a prominent militant who recently fled the UK.
Siddhartha Dhar, also known as Abu Rumaysah, was a prominent extremist in Britain, who had aired his radical views on the BBC's Sunday Morning Live and a documentary by Vice, before fleeing to Syria in September 2014 to join IS.
He was a member of the now-banned UK-based extremist group Al Muhajiroun, which was once headed by Anjem Choudary.
The masked man in the latest execution video calls David Cameron an "imbecile" for challenging the "might" of the so-called Islamic State. He then executes a group of prisoners accused of spying for the British government.
On Tuesday, the media reported he was believed to be Dhar but keen observers of IS, also known as Isis, Isil or Daesh, have some doubts.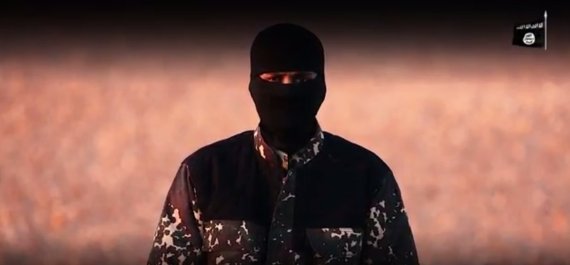 The man in the IS video (above) and Dhar appearing on the BBC in 2014 (below)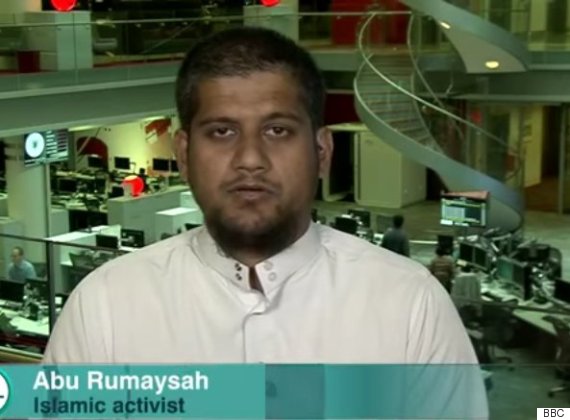 Shiraz Maher, a King's College London lecturer and expert in British recruits to IS, said he "really did not think" the executioner was Dhar, saying the voice was wrong and the masked man's figure was "much too bulky".
I'm really not at all convinced that the new "Jihadi John" is Abu Rumaysah. New guy doesn't sound like him and is much too bulky.

— Shiraz Maher (@ShirazMaher) January 4, 2016
He pointed on that people initially mis-identified 'Jihadi John', the previous British masked executioner who turned out to be Mohammed Emwazi. He was killed in a drone strike in November.
Remember when everyone thought 1st "jihadi John" was Abdel-Bary Majeed? I disagreed then & now. New guy doesnt look like Abu Rumaysah to me.

— Shiraz Maher (@ShirazMaher) January 4, 2016
Raffaello Pantucci, director of International Security studies at defence think tank the Royal United Services Institute, told The Huffington Post UK the man's appearance in the video cast doubt in his mind.
He said: "If you look really closely at the eyes, it looks like the eyes aren't quite even.
'While Rumaysah's eyes in the pictures you can see don't look even as well, it looks more pronounced in the [IS] video. But it could be a bad camera angle.
"The other thing is the ears seem a little lower. At the end of the day we're only going to know when is when someone talks to the guy who shot the video."
This echoes what Konika Dhar, Dhar's sister, said. She believed it was him on hearing the voice but on viewing the video found "one eye is smaller than the other, my brother has symmetrical eyes. The eyebrows are bushy and this guy is taller, my brother is shorter and he has got broader shoulders".
He also said claims from Al-Muhajiroun that it is Dhar were not credible, saying: "We've got a bunch of guys from Al-Muhajiroun saying 'oh yeah, it's him, it's him, it's him' but they would say that because it makes them look cooler."
But Pantucci added he did not read much into the fact the man in the IS video was masked. Some have suggested someone as prominent as Dhar would not have hidden his face.
He said: "I don't agree with the line 'if it was him, why would he mask himself when he's been so visible in the past?'
"I'm not sure that decision would necessarily have been up to him. The group might have made the decision a masked murderer is a far more potent symbol than a recognisable figure."
SEE ALSO:
Prof Jane Setter, a linguistics expert at the University of Reading, studied Dhar's voice from clippings of his television appearances, alongside the executioner's voice in the IS video. She concluded the two had both differences and similarities.
Setter said the pitch of the executioner's voice was higher, but "the minimum and maximum pitch in both samples is similar," she said.
"The average pitch range is different - 203Hz in the Jihadist video and 153Hz in the interview - but it is likely that he is more 'excited' in the Jihadist video so this could account for the difference."
She added that both Dhar and the executioner emphasise a distinct 'l' when using words that end with that letter.
She told HuffPost UK: "Having listened to both samples, I tentatively suggest there is some possibility that this could be the same speaker. However, detailed forensic analysis would be needed to verify this conclusion."
Downing Street hinted it had been given a name but would not confirm it.
A spokesman for No 10 said: "We have made an initial assessment, you wouldn't expect us to confirm a name."