An Islamic State militant with a British accent mocks "imbecile" David Cameron and his "handful of planes" in a propaganda video purporting the show the execution of five men in Syria, charged with spying for the UK government.
The film shows five men "confessing" to photographing sites in Raqqa in exchange for money. Dressed in the usual orange suits, the men are made to kneel before being shot in the head.
The "British" jihadi then addresses the prime minister: "How strange it is that a leader of a small island threatens us with a handful of planes. One would have thought you would have learned the lessons of your pathetic master in Washington and his failed campaign against the Islamic State. But it seems like you, just like your predecessors Blair and Brown are just as arrogant and foolish."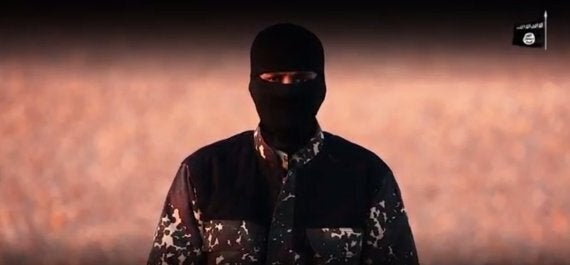 The 'British' jihadi mocks Cameron's 'handful of planes'
He continues: "In fact David, you are more of an imbecile. Only an imbecile would dare to wage war against a land where the law of Allah reigns supreme and where the people live under the justice and security of the sharia. Only an imbecile would dare to anger a people who love death the way you love your life."
The authenticity of the video has yet to be confirmed, and the identity of the "British" jihadi is unknown. Last year, "Jihadi John", the British extremist Mohammed Emwazi, appeared in the execution videos of several detainees, including David Haines, Alan Henning, James Foley and Steven Sotloff. Emwazi was killed in November by a US drone strike.
In the latest film, the jihadi makes the claim that members of the Islamic State group will invade the UK, subjugating the country under Sharia. "As for those of you who wish to continue fighting under the banner of Cameron, on the minimum wage, we say to you, to ask yourself, do you really think your government will care about you when you come into our hands?" he asks. "Or will they abandon you, as they have abandoned these five and those who came before them? Because you will lose this war, as you lost in Iraq and Afghanistan."
A Foreign Office spokesman said: "We are aware of the video and are examining its content."
Related