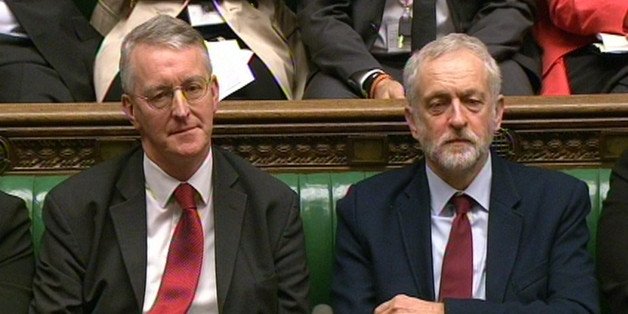 PA/PA Wire
The wait is over and Jeremy Corbyn has unveiled his new-look Shadow Cabinet - and it looks much like his old one.
Against reports and briefings that the Labour leader was plotting a "revenge reshuffle", the reality is just two senior posts changed - and Shadow Foreign Secretary Hilary Benn survived.
Behind-closed-doors meetings started on Monday afternoon, but the Labour leadership only finally drew a veil over the speculation by announcing the new top team at 12.43am on Wednesday morning.
But the bare facts didn't tell the full story.
Emily Thornberry has joined the Shadow Cabinet as Shadow Secretary of State for Defence, taking over from Maria Eagle.
Ms Eagle, meanwhile, has moved to Culture, Media and Sport - taking over from Michael Dugher, who revealed himself yesterday morning that he had been sacked.
Ms Thornberry has made clear her opposition to Trident - in line with Mr Corbyn's disapproval of renewing the nuclear weapons system, and potentially pushing Labour towards a policy of unilateral disarmament: a position it dropped in the 1980s.
Ms Eagle is moved to a role less likely to bring her in conflict with the leader - she criticised his wholesale refusal to ever push the nuclear button - and Mr Dugher was removed for being critical of the prospect of a "revenge" reshuffle.
Junior shadow minister Pat McFadden was also sacked - but for a barb at Mr Corbyn suggesting the West should not be blamed for terror attacks.
Perhaps most significant is Shadow Foreign Secretary Hilary Benn staying put: his dismissal could have risked a mass walk-out, but he has agreed not to publicly disagree with Mr Corbyn after his dramatic speech supporting Syria airstrikes.
The new line-up is:
Leader of the Opposition and Leader of the Labour Party
Jeremy Corbyn
Deputy Leader of the Labour Party, Party Chair and Shadow Minister for the Cabinet Office
Tom Watson
Shadow First Secretary of State, Shadow Secretary of State for Business, Innovation and Skills
Angela Eagle
Shadow Chancellor of the Exchequer
John McDonnell
Shadow Chief Secretary to the Treasury
Seema Malhotra
Shadow Home Secretary
Andy Burnham
Shadow Foreign Secretary
Hilary Benn
Opposition Chief Whip
Rosie Winterton
Shadow Secretary of State for Health
Heidi Alexander
Shadow Secretary of State for Education
Lucy Powell
Shadow Secretary of State for Work and Pensions
Owen Smith
Shadow Secretary of State for Defence
Emily Thornberry
Shadow Lord Chancellor, Shadow Secretary of State for Justice
Lord Falconer of Thoroton
Shadow Secretary of State for Communities and Local Government, ShadowMinister for the Constitutional Convention
Jon Trickett
Shadow Secretary of State for Energy and Climate Change
Lisa Nandy
Shadow Leader of the House of Commons
Chris Bryant
Shadow Secretary of State for Transport
Lilian Greenwood
Shadow Secretary of State for Northern Ireland
Vernon Coaker
Shadow Secretary of State for International Development
Diane Abbott
Shadow Secretary of State for Scotland
Ian Murray
Shadow Secretary of State for Wales
Nia Griffith
Shadow Secretary of State for Environment, Food and Rural Affairs
Kerry McCarthy
Shadow Minister for Women and Equalities
Kate Green
Shadow Secretary of State for Culture, Media and Sport
Maria Eagle
Shadow Minister for Young People and Voter Registration
Gloria De Piero
Shadow Minister for Mental Health
Luciana Berger
Shadow Leader of the House of Lords
Baroness Smith of Basildon
Lords Chief Whip
Lord Bassam of Brighton
Shadow Attorney General
Catherine McKinnell
Shadow Minister without Portfolio
Jonathan Ashworth
Shadow Minister for Housing and Planning
John Healey