Victoria Derbyshire Speaks Candidly About Hair Loss Following Chemotherapy Treatment In New Video Diary
Victoria Derbyshire has shared a new instalment of her video diary, in which she speaks openly about the hair loss she's suffered, as a result of her chemotherapy.
Since being diagnosed with breast cancer in August last year, Victoria has documented her battle and the treatment she's received in video diaries, and in her latest, she reveals that she's been wearing a wig to present her BBC2 show.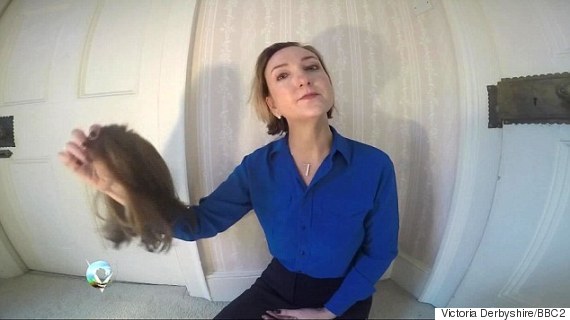 The presenter removes her wig
Speaking to camera, Victoria explains: "One of the things that I'm finding difficult to come to terms with is losing my hair," she said. "I would say I have lost about 30-50 per cent of it."
In the video, which can be seen above, Victoria goes on to remove her wig, and show the extent of her hair loss, before continuing: "When I started wearing a wig a few weeks ago I didn't tell anyone at work I was wearing one, because I needed a little time to adjust to it myself.
"I can confirm I'm now fully adjusted to it and so feel comfortable in being totally open about it.
"The point is, it lets me crack on and get on with things - which is absolutely great."
In one of her previous video diaries, Victoria shared an inspirational message from her hospital bed, explaining that she had undergone a mastectomy, ahead of the chemotherapy treatment.
Praising the healthcare professionals who cared for her, Victoria said: "The NHS staff have been awesome. I'm completely in awe of them. They are so inspiring and so caring and I feel so grateful to them.
"When I woke up from the anaesthetic I did cry because it was just a relief. The malignant tumour in my right breast is gone."
LIKE US ON FACEBOOK | FOLLOW US ON TWITTER