Alex Salmond has chortled his way through some pretty fierce criticism while reading mean tweets about him live on air.
Scotland's former First Minister read out the short and sharp missives during an LBC broadcast, proving to be a great sport in the face of some incredibly personal comments.
Salmond appeared amazed at the vitriol displayed in fewer than 140 characters, saying: "You're kidding."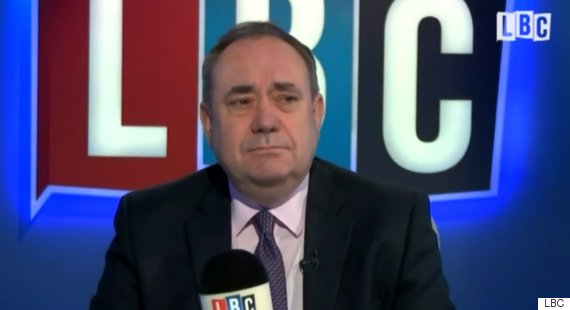 The MP for Gordon grimaced at some of the mean tweets
But the MP appeared to enjoy the experience, often launching into fits of laughter.
And his responses to the tweets were pretty good, too.
Who would pay £51,000 for a portrait of Alex Salmond? I can only think of one person.

— Mr Eugenides (@Mr_Eugenides) November 26, 2015
"It was £51,500 and I have lots of relatives."
Wish I had device that instantly zaps all sound from radio whenever Alex Salmond's irritating voice is heard.

— Katie Maclean (@leodhas) July 26, 2015
"It's called the off switch."
@blairmcdougall @KiltedKelpie If Alex Salmond was chocolate it would be dark and bitter.

— El Del (@Del_ivered) November 27, 2015
"I like plain chocolate Bounty myself, that's the bar for me."
SEE ALSO: