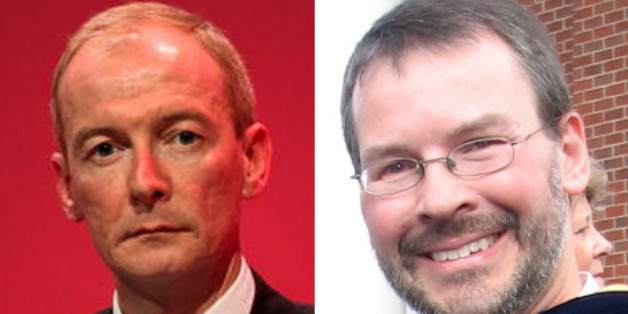 Oli Scarff via Getty Images/ patmcfadden/ Twitter
Spare a thought for those who share their name with a famous personality - and pity more people who are inundated with abuse on social media when their namesake is the intended recipient of intense vilification.
That's a lesson Latin teacher Pat "poor bloke" McFadden, who works at St Mary's Episcopal School in Tennessee, learnt yesterday.
He woke on Wednesday morning to find his Twitter mentions awash with mentions - from campaigners pillaging him with abuse and journalists smugly pointing out the case of mistaken identity.
Why? Because McFadden (@patmcfadden) shares his name with the now sacked shadow Europe minister (@patmcfaddenmp); an easy mistake - we get it.
A colleague of the Labour MP ousted from Jeremy Corbyn's frontbench late on Wednesday, Wes Streeting, set off the firestorm - accidentally tagging the wrong McFadden in a tribute tweet sent out last night.
The now deleted post, later re-published with the correct handle included, read: "Gutted about @patmcfadden. Crucial year with EU ref and we've lost an experienced heavyweight. What a shower."
Streeting quickly tried to remedy the simple mistake, following up the tweet with:
Apologies to @patmcfadden. He wasn't sacked. In fact, he wasn't our shadow Europe minister. In fact, he isn't even British.

— Wes Streeting MP (@wesstreeting) January 5, 2016
But it wasn't enough to hold back the Twitterstorm.
Labour supporters gleeful at the news of McFadden's sacking, after he openly sparred with Corbyn in the Commons over Western foreign policy's role in provoking the Paris attacks, disparaged him and jubilated at news of the demotion.
Well @patmcfadden's disloyalty. Quite like the fact that never tried to excuse terrorism. https://t.co/NAq7Bq23Kf

— Mark Lewis (@MarkLewisLawyer) January 5, 2016
@gabyhinsliff & @patmcfadden are the ones confusing cause & responsibility, not @naziasmirza nor @jeremycorbyn

— gerard choo (@GerardChoo) January 6, 2016
@wesstreeting @patmcfadden loyalty to Jeremy is paramount. Even far more important than any election.

— Portcullis (@kottwitz) January 5, 2016
@adrianmcmenamin or in my case you decide that a party that doesn't want @patmcfadden is no longer worth supporting

— lesley smith (@MsLesleySmith) January 6, 2016
While other hawk-eyed Twitter users watched in anticipation of poor Tennesseean McFadden, who has himself not posted on the micro-blogging site since 27 June this year, being deluged with notifications.
@wesstreeting @patmcfadden Poor bloke. His mentions are about to go off....

— Joshua Dixon (@JoshDixonTweets) January 5, 2016
@wesstreeting @patmcfadden Poor bloke. Elected, promoted, given UK citizenship and then sacked - all in one tweet. #harsh

— Chris Crampton (@BlueEarthMngmnt) January 5, 2016
@wesstreeting @patmcfadden has not tweeted since June & now has a bucket load of notifications. He may be a bit confused as to why 🙃

— Neil Barstow (@nsbarstow) January 6, 2016
The US-based McFadden had previously befallen the same fate on matters concerning Europe, leaving one Twitter user to speculate that his 37 followers would enjoy a far less active account now that the brief had been withdrawn from his namesake.
Biggest winner from reshuffle so far is US Latin teacher @patmcfadden who will sleep better during the EU referendum pic.twitter.com/03iYT1EQVl

— Jon Stone (@joncstone) January 5, 2016
Another pointed to another stateside user, John Lewis, a man unsurprisingly swamped with messages towards the Christmas period by people confusing him for one of Britain's biggest chain stores.
With this #LabourReshuffle spare a thought for @patmcfadden who is going to be in the same situation @johnlewis was a few weeks back

— Graham Pointer (@grahampointer72) January 5, 2016
McFadden now joins the long list of people, including John Lewis (@johnlewis) - NOT @johnlewisretail - and Chelsea, a 25-year-old freelance photographer in San Francisco frequently finding herself confused with the English football club which shares her name (@chelseafc), to suffer social media mistaken identity.
READ MORE: