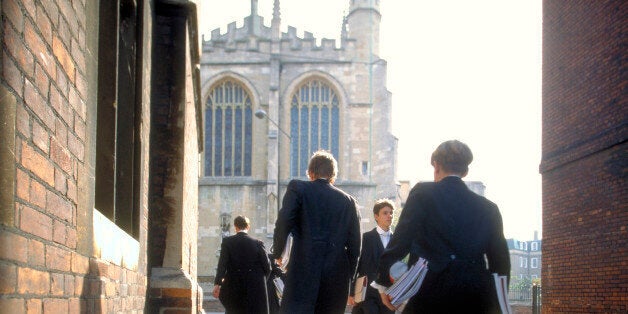 The Labour Party's plans to push through proposals requiring private schools to open their facilities to state school students have been slammed by independent schools as "ignorant" and "prejudiced".
If the plans go ahead, the schools will also be made to give state school pupils career advice, as well as offering up their sports, art and music facilities for use.
Shadow Charities Minister Anna Turley proposed the amendment to the Charities (Protection and Social Investment) Bill, which will be debated in a House of Commons committee on Thursday.
Under the proposed legislation, independent schools across the country would be forced to offer careers advice, part of which would be helping students apply for university and work experience placements.
There are 1,267 private schools in the UK, and 998 with charitable status. There is current legislation to ensure that independent schools benefit local communities and students, but they are allowed to decide themselves how they should meet their responsibilities. This legislation would be the first to definitively outline what exactly independent schools have to provide.
Robin Fletcher, National Director of the Boarding Schools' Association, told HuffPost UK: "These are half-baked proposals, built on prejudice against private schools and based on ignorance about the huge amount of brilliant partnership work that happens now.
"Clearly someone has no idea that hundreds of independent schools already have extensive partnerships with local communities and state schools, often much broader than what is being put forward".
Education Secretary Nicky Morgan accused Labour of patronising state schools. "The truth is this betrays the Labour Party's prejudiced and outdated assumption that state schools lag behind private schools.
"The truth is English schools have been transformed in the past five years and many far outclass their counterparts in private sector", she told The Telegraph.
However, Morgan might not be able to stop the legislation: the Conservatives only have a majority of two MPs on the committee - any absences or rogue votes could mean that Labour succeed in passing the legislation, which Turley says has the backing of leader Jeremy Corbyn.
Even if the committee votes down the proposals, The Telegraph reported the changes are now official Labour party policy, and that the party would continue to seek to have the policy implemented.
Corbyn's disdain for selective and private education is well known: he ended his marriage of 12 years when his wife insisted their eldest child attend a grammar school.
Lucy Powell MP, the Shadow Secretary of State for Education, responded to critics of the legislation.
She told HuffPost UK: "There are many many excellent state schools who do a fantastic job but with social mobility stalling we want to see more collaboration in the system and the whole independent sector doing more to engage and work with other local schools whether that's sharing facilities, or experience.
"Some of the best private schools do that but many don't. As a result more should be done to ensure the independent sector earn their charitable status", she said.
Sir Peter Lampl, Chairman of the Sutton Trust, agreed.
"It is important that fee-paying schools do more to open their facilities to state school students, and the Sutton Trust worked with the last Labour government to make this happen", he told HuffPost UK.
"Our research consistently shows that those educated at independent schools are over represented in all spheres of public life, from law and politics, to journalism and medicine. However, almost all pupils who attend independent schools come from well-off families who are able to afford the fees", he added.
Shadow Minister Turley, who herself attended a private school, explained her feelings on proposing the legislation when she said: "I felt very heavily, and it still weighs on my mind now, the privilege that I had."
A Department of Education spokesperson told HuffPost UK: "There are many independent schools in vibrant partnerships with local state funded schools. These partnerships can include a huge range of activities, from curriculum and teaching support through to the sharing of facilities and joint events, for example in sports, music and drama.
"Each year the Independent Schools Council surveys its member schools and has reported that over 90% of its schools are engaged in some form of partnership."
Popular in the Community