A photographer has shared an incredible photo of a newborn baby with his attached umbilical cord shaped to spell out the word 'love'.
Emma Jean Nolan took the arresting image just 90 minutes after Harper Hoani Spies was born at 3.53am on Saturday 2 January.
Harper's mother, Jolene Spies, asked Nolan to share the resulting black-and-white image on Facebook just a few hours later.
Nolan captioned the post: "Welcome earthside sweet little Harper".
She explained that Harper's mother, Jolene Spies, would be burying his placenta in accordance with Maori tradition.
"As a Maori baby his placenta will now be returned to the land," wrote Nolan.
"The word 'whenua' relates to the placenta and to the land. Whenua (placenta) is returned to the whenua (land) with the pito (umbilical cord) the link between the newborn and papatuanuku(mother earth).
"With this affinity established, each individual fulfils the role of curator, for papatuanuku (mother earth), which remains life long."
Spies is descended from the Ngai Tahu iwi, a Maori tribe of the southern region of New Zealand. Her son's placenta will be buried under a totara tree on his grandfather's farm in Auckland.
Nolan explained that shaping the cord was not a simple endeavour.
"I spent quite a bit of time shaping it into the word love," she wrote.
"It was the 'e' that was the trickiest!"
Nolan told Stuff she'd received a mixed reaction to the post:
"There will always be people who will be shocked or 'disgusted' by the sight of the placenta, and that is ok," she said.
"But many people can see the beauty in the image of the connection to life. The placenta may not be beautiful in appearance but it is beautiful in its existence and its work."
"We all owe our life to a placenta."
Nolan asked other parents to share how they'd "honoured" their placentas on Facebook.
Ian Rush who is from Warwickshire, England, but lives in New Zealand, commented: "You can do this in England.
"It is unusual to ask for the placenta, but we did and is buried under a beautiful maple in me mam's wee garden."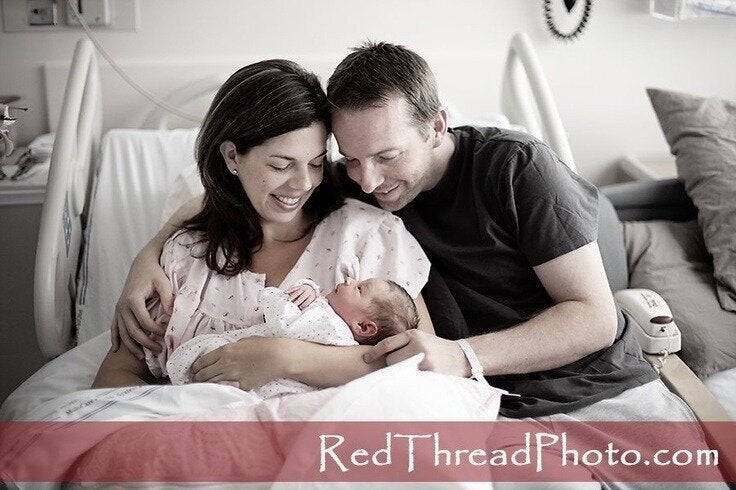 Newborn Photos Every Parent Needs To Take