Groups of junior doctors have been praised for taking an innovative approach to Tuesday's strike - by offering the public life-saving CPR lessons.
More than 20 junior doctors attended a children's playgroup in Manchester on Tuesday morning, which was forced to close its doors after attendee numbers maxed out.
Some 70 children and their parents clustered in small groups to learn CPR, performed on mannequins with instruction from the striking staff.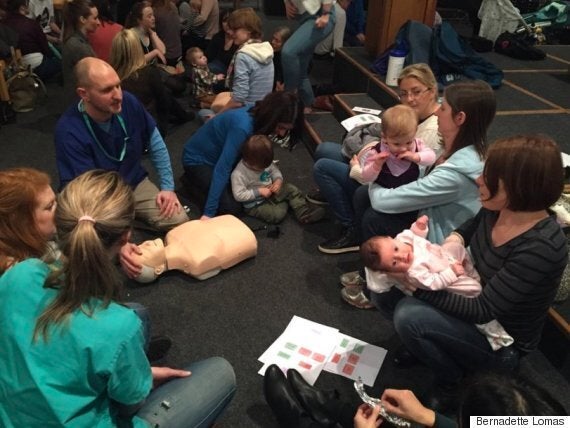 One junior doctor teaches CPR to a group of new parents
Bernadette Lomas, a 34-year-old Manchester Royal Infirmary (MRI) junior doctor specialising in child and maternal anaesthetic, organised the initiative, saying she wanted to raise awareness of Tuesday's walkout while giving people more confidence to take steps that could help save others' lives.
"We wanted to inject a bit of positivity into what is an incredibly sad day for junior doctors and the NHS and show that we're more than happy and willing to go the extra mile - to go out and help the community as best we can," she told The Huffington Post UK.
"The main thing we wanted to do was to raise awareness and build peoples confidence about life saving skills because anyone can do it."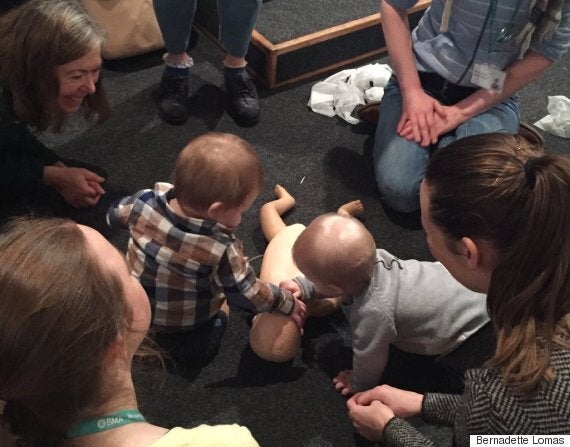 Two toddlers play with a plastic doll
"It was really great having the kids there - there were lots of babies getting involved with the mannequins; everybody can learn skills to their level."
Susannah Patey, a colleague of Bernadette's in the MRI's anaesthetics department, added that the initiative was to show members of the public doctors still have patients' best interests at heart.
"Personally I felt that if I wasn't in work I should spend the time doing something constructive and positive," the 39-year-old told HuffPost UK.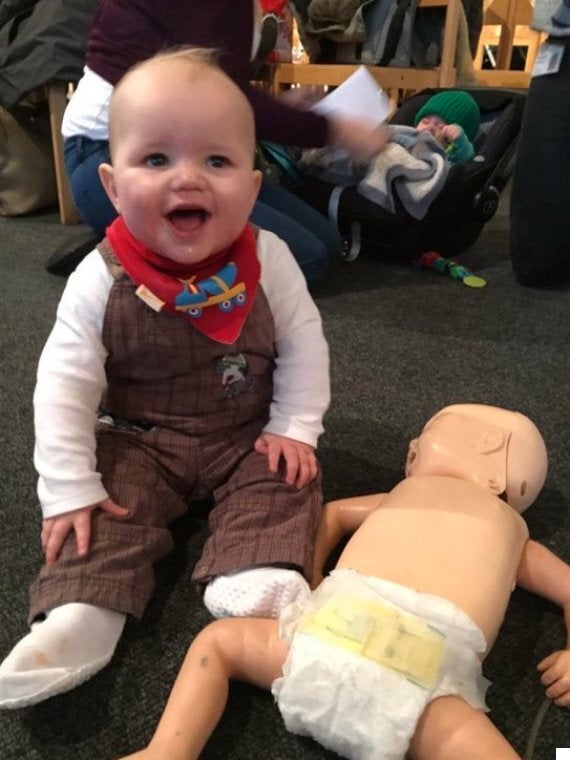 Susannah's child, seen with a dummy used to help practice CPR on
"I wanted to meet the public and show we doctors do have their best interests at heart, and that the proposed new junior doctors contract will cause harm to patients: tired humans make bad decisions."
The pair set up a second event in the play area of a Didsbury community cafe, too, with a further 25 doctors turning out to teach locals CPR.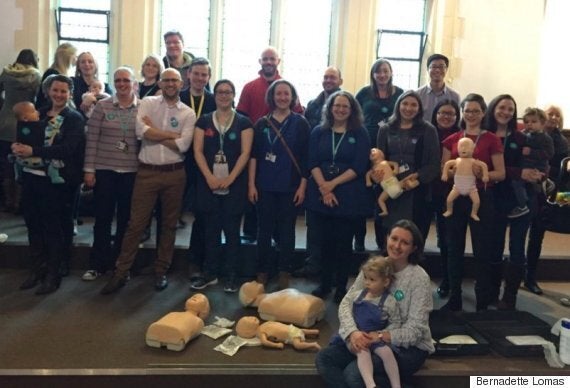 Doctors pose for a photo after a successful class
Bernadette was almost moved to tears by the feedback she got from her grateful training session-goers.
"People were very passionately giving us their support - I was almost in tears," she said.
"They were saying that what we were doing was a good thing and that they really, really appreciated it. It was heartwarming."
A similar initiative was set up down In West London, with doctors camped outside a busy underground station to offer commuters the chance to brush up on basic, potentially life-saving, techniques and engage with them about the strike.
Alice Findlay, a junior doctor who's worked as a paediatrician for three years at Ealing Hospital, insisted she "didn't want to be striking but had no choice".
"Only 20% of the population know life saving skills, so if we can do anything to increase that we are reducing the chances of someone dying from a heart attack," she told reporter Ben Farmer.
But a passing-by 22-year-old law student said she was "amazed and impressed" to see the initiative in action outside Ealing Broadway.
"Not only did it show that they were standing up for themselves by being on the strike, but that they were also being productive and using the strike for the well being of others," Cindy Chen told HuffPost UK.
The aspiring lawyer, who says she knows many health professionals affected by Jeremy Hunt's proposed contract changes, commended the group of doctors for an "engaging" method of protest.
"It stands out in comparison to people standing outside buildings with banners, which is usually the normative behaviour when taking on a strike," she said.
"The group of doctors is effectively showing the public we need doctors by way of teaching them CPR. It may be a small representation, but hugely effective.
"In engaging them with procedures such as CPR, it offers valuation, which the government is overlooking."
Others responded positively to the move, one social media user hailing it as close to "the most educational and useful union picket line in history".
There are more than 55,000 junior doctors in England - a position covering people who have just graduated from medical school through to those with more than a decade of experience.
They represent a third of the medical workforce, and just over 37,000 are members of the BMA, which called the strike.