Junior doctors explained last month how their strike was the "last roll of the dice" as they set out their messages for Health Secretary Jeremy Hunt.
Adorned in knitwear of every variety, junior doctors spent the day picketing outside London's University College Hospital near Euston for the first time in 40 years, to protest the government's controversial new contracts.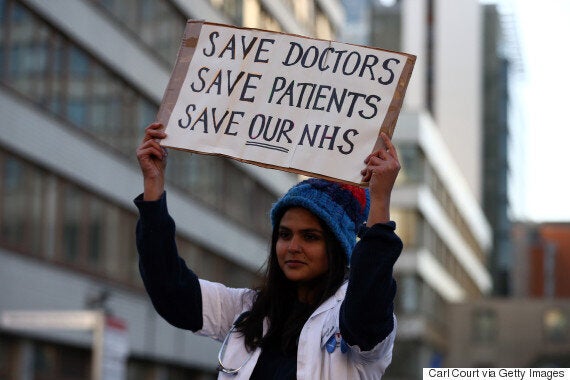 A member of staff holds a placard as she takes part in a picket outside St Thomas' Hospital on January 12, 2016
A woman paced the pavement with a placard that reads: "We are one profession, we stand together." The words were echoed by the variety of people at the picket.
The mood here was as clear as the cold January air - they are calling for Hunt to spend a day in their shoes.
Catherine Houlihan, 35, tells us that she's been at the scene since 7:30am and that she wont be leaving until 6pm, and that she's already had three coffees this morning. "How many are you advised to have a day?" we ask, "I don't even know," she giggles.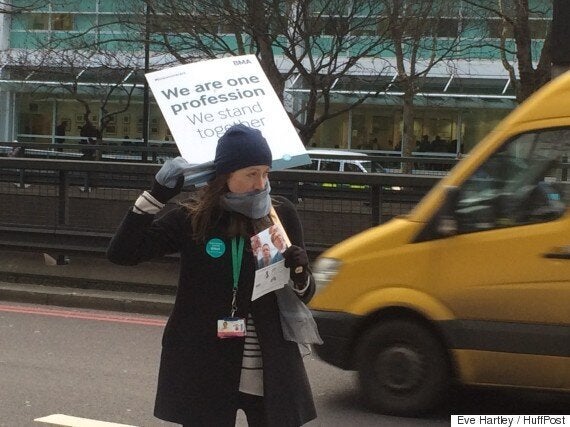 Catherine Houlihan, 35, paces the streets with a placard
Houlihan speaks with passion when she tells us what she would say to change Hunt's mind.
"Jeremy Hunt needs to recognise that we are an intelligent bunch of people, we have thought about what has been offered to us and it's not safe for our patients," she said, also urging her patients to "attend hospital if you need it, because you will get excellent care."
Standing behind a make-shift desk adorned with badges and stickers is a paediatrician with a flair for fluorescent knitwear.
Dr Najette Ayadi O'Donnell, 34, has a clear message for the health secretary: "The one thing I'd say to Jeremy Hunt is come and live in our shoes for a shift and come and see what we put up with," she said in a tempered tone.
"We routinely work over our hours and we don't moan about it, we just do it. If a child comes in at 5pm none of us look at our watch and leave the hospital," she added.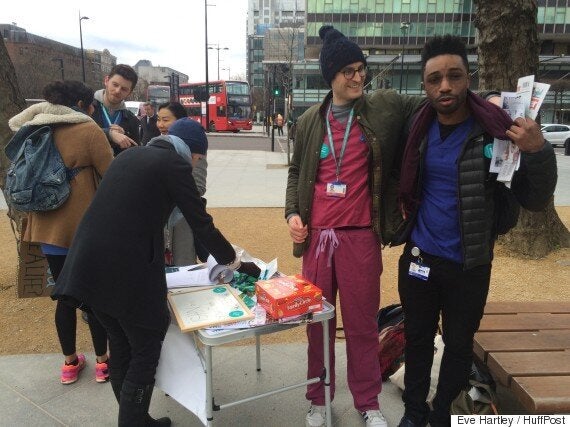 A group of junior doctors gather around a makeshift desk
Later in the morning we met Tim Yates, 36, who is chair of the BMA north Thames committee. He tells me that they have organised strike action across 50 sites today.
He tells us that he would "remind Jeremy of the excellent care that we provide 365 days of the year," if he had the opportunity to talk to him.
Yates also discusses the atmosphere of the picket. "The strength of feeling is incredible you know, it's an unsafe and unfair contract that's about to be imposed on us.
"I'd tell the patients we're incredibly sorry we're doing this, this is absolutely the last roll of the dice.
"If you're inconvenienced today because of the action that we have taken, please know that if we are successful then the NHS will be more sustainable."
Beside him is Adam Clare, 30, he is visibly shaking in the cold and about to run into the Hospital to collect something.
He tells me he's a physician and his message for Hunt today is for him to listen. "We feel that he talks a lot but doesn't really listen. He repeats the same rhetoric the same spin, and it's getting very tiresome in all honesty," he says.
Across the board many junior doctors are arguing that, if imposed, the new conditions will drive many doctors to look abroad for employment.
The first strike, which will last for 24 hours from 8am on 12 January, will affect nearly 4,000 operations, according to NHS England.
NHS England said 1,425 inpatient operations and procedures were being cancelled as a result of the strike along with 2,535 outpatient ones.
Some 654 cancellations - 192 inpatients and 462 day cases - are in London.
There are more than 55,000 junior doctors in England - a position covering people who have just graduated from medical school through to those with more than a decade of experience.
They represent a third of the medical workforce, and just over 37,000 are members of the British Medical Association (BMA), which called the strike.
Hunt told the BBC Radio 4's World at One Tuesday afternoon that he wanted to "thank everyone in the NHS who's worked really hard today to keep patients safe."
"Nearly 40% of junior doctors have gone to work today but alongside consultants, nursing staff, other staff – they have worked really, really hard to make sure that patients don't come to harm and I want to thank them for that," Hunt said.
He went on to accuse striking doctors of "putting patients at risk". He said: "We have tried really hard to make the case for a seven-day NHS; we've been arguing this with the BMA now for over three years.
"And in the end this was in our manifesto, it was endorsed by the British people and I think every doctor knows that it's not acceptable to have mortality rates at the weekend that are 11% to 15% higher, and we want the NHS to offer the safest and best care in the world and we all have that in common.
"So the right thing to do is to talk, not do what we're seeing today which is putting patients at risk."
In advice to patients, NHS England said: "Urgent and emergency care services will be available as normal but hospitals are expected to be under additional pressure.
"Where possible, people should contact their GP, seek advice from their local pharmacist, call NHS 111 or consult the NHS Choices website."
It added: "People should be particularly attentive to their health over this period and look out for more vulnerable members of their families and communities."
Talks aimed at resolving the dispute over a new contract failed on Friday, although further talks will continue.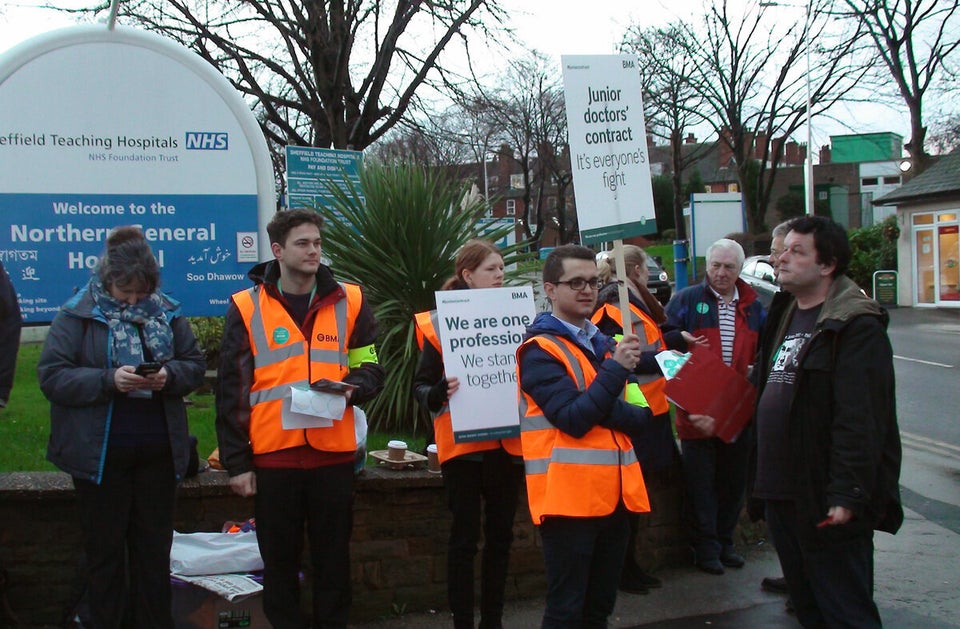 Junior Doctors Stage 24 Hour Strike Across NHS