As junior doctors took to their picket lines over Jeremy Hunt's proposed new contract, there were a number of striking placards - and even this amazing tattoo - on display in support.
In one particularly striking image, a doctor showed off a huge freshly-inked NHS tattoo on his bicep.
The inking featured the words "The new National Health Service" and "with careful poison and sharpest blade", surrounded by flowers and a stethoscope.
When asked by Rex photographer Guy Bell whether it was real or not, the unnamed doctor joked: "You think you can get a transfer that big?"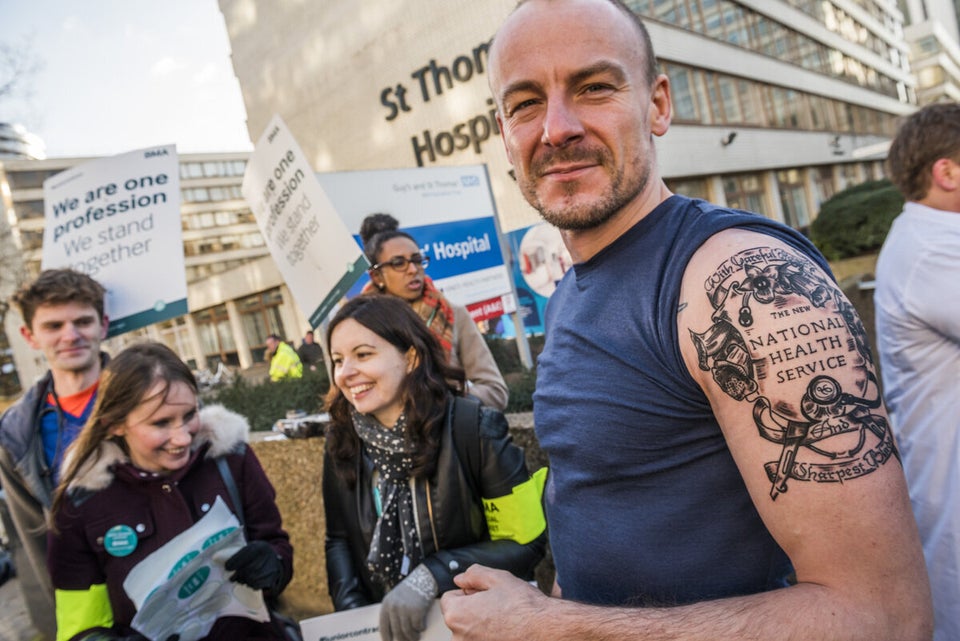 Junior Doctors Strike List
A people tweeted their support for the junior doctors' strike with tales of their own experience of the NHS...
Thousands of doctors took to picket lines across the country in their fight for better terms and conditions as part of revisions to their employment contracts.
About 4,000 hospital operations and other medical procedures were to be cancelled across England as a result of the 24-hour strike which began at 8am this morning. Some 3,400 cancellations were to take place today alone.
Jeremy Hunt told the BBC Radio 4's World at One on Tuesday: "I would like to thank everyone in the NHS who's worked really hard today to keep patients safe.
"Nearly 40% of junior doctors have gone to work today but alongside consultants, nursing staff, other staff – they have worked really, really hard to make sure that patients don't come to harm and I want to thank them for that."
He went on to accuse striking doctors of "putting patients at risk". He said: "We have tried really hard to make the case for a seven-day NHS; we've been arguing this with the BMA now for over three years.
"And in the end this was in our manifesto, it was endorsed by the British people and I think every doctor knows that it's not acceptable to have mortality rates at the weekend that are 11% to 15% higher, and we want the NHS to offer the safest and best care in the world and we all have that in common.
"So the right thing to do is to talk, not do what we're seeing today which is putting patients at risk."
But junior doctors argue that the contracts, which the government says are needed to provide more seven-day services, will result in overworked staff who are in danger of making mistakes and putting patients' lives at risk.
Many also argue that, if imposed, the new conditions will drive many doctors to look abroad for employment.
The BMA said that the "unfair deals" could force young doctors to "speak with their feet".
Junior doctors are set to strike on two further dates - 26 January and 10 February - in protest at health secretary Jeremy Hunt's new contract.
Related