 REX Features
Government "red boxes", briefcases and papers have been chauffeur-driven on their own in ministerial cars almost 2,000 times - despite a supposed Whitehall crackdown.
A Freedom of Information request tabled by The Huffington Post UK has revealed the full extent of the practice of using taxpayer-funded vehicles to ferry documents around Westminster in "air-conditioned splendour" - even when the minister is not travelling with them.
The response shows that documents travelled alone 1,910 times in the three years to 2014-15, and has in fact risen in the last two years. Papers are given their own ride to protect sensitive information.
The increase came despite Cabinet Office minister Francis Maude, in charge of civil service reform, in 2011 reading the last rites on the iconic boxes amid the move to paperless working.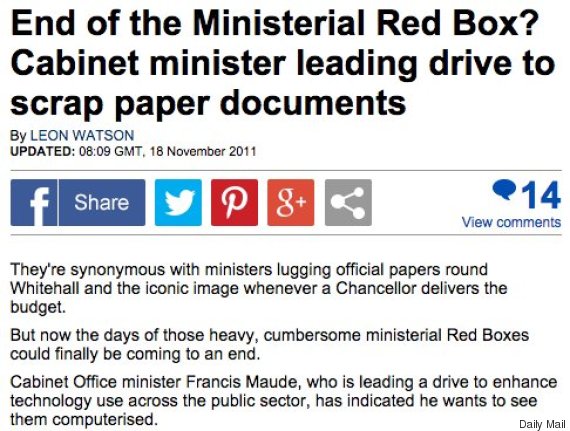 The Government signalled five years ago "red boxes" were on their way out in the digital age
The Tory MP even said the security rationale behind using hard copies was often used as an "alibi".
Labour's Deputy Leader and Shadow Cabinet Office Minister Tom Watson told Huff Post UK the "out of date practice" represented a "shocking waste of taxpayer's money".
In 2012/13, drivers transported documents around SW1 - described as "despatch box movements" - on 527 occasions. That had jumped to 577 the next year and 826 times in 2014/15.
No figures were available for the first year of the coalition Government - despite a request - when a crackdown on the use of ministerial cars was announced.
In 2010, David Cameron ordered ministers to use public transport where practical to cut costs as the Government's austerity programme kicked in.
The data was provided by the Department for Transport and is available on the government website.
A spokesman said: "We are committed to ensuring that the Government Car Service provides value for money for the taxpayer. That is why, since 2010, running costs have fallen from £21.6m in 2010 to £6.3m in 2014/15 and the number of cars has been reduced from 227 to 78. There are occasions when the government car service is appropriate to move minister's boxes in a secure manner for official business and all usage is governed by the Ministerial Code."
The most famous "red box" is the briefcase held at a right-angle by the Chancellor of the Exchequer before the Budget. But Secretaries of State and junior ministers all have "boxes" filled with civil service briefing papers and documents to be signed.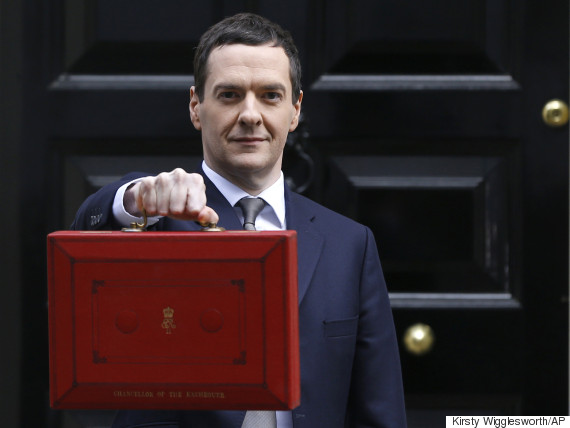 Chancellor George Osborne with his "red box" at the Budget
The FOI response also reveals ministers themselves made use of the so-called Government Car Service more than 12,400 times (see more details below). But their journeys fell year-on-year - 6,778 in 2011/12 down to 1,191 by 2014/15 - while "despatch box movements" continued.
After failing in its promise in 2010 to publish data of how much the Government spends on ministerial cars each year, data was released in December last year.
The DfT claimed over costs had fallen from £21.6 million in 2010/11 to £6.3 million in 2014/15. But questions had been raised over whether Whitehall was comparing like-with-like after a switch in systems and recording the data over the five years.
Last year, Mr Maude renewed his vow to phase out ministerial boxes after 150 years. He said ministers are being issued with state-of-the-art smartphones to do their work online - though the process appeared to start four years earlier.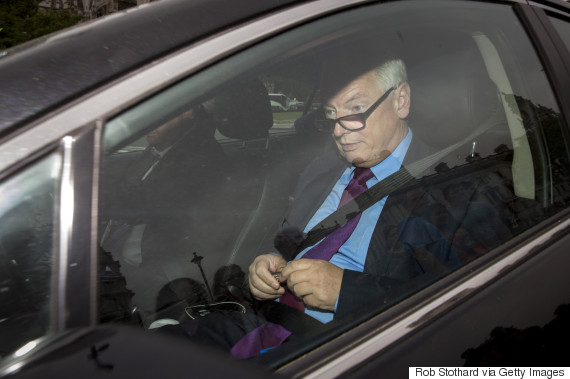 Francis Maude says his "red box" is his mobile phone
Unveiling his new phone to the Daily Mail, the minister said: "All my work emails are on this. This is my red box." He admitted material that was of a very sensitive nature, it would not be viewed on the device.
Mr Maude seems to live by his word: his briefing papers were driven by car just three times.
In 2010, Cabinet minister Michael Gove's wife Sarah Vine revealed in a newspaper column boxes followed them politicians in the "air-conditioned splendour" of a chauffeur-driven limo. The FOI response reveals Mr Gove had his box transported 29 times.
She wrote: "(The red box) arrives unannounced at all hours in a chauffeur-driven car, the engine purring deferentially as her handler walks her to the front door … she deposits herself on the sofa to await her master. My husband is free to travel home by Tube, taxi, bicycle or carrier pigeon, but the RB must arrive in air-conditioned splendour, snug and secure in the back of a locked car."
Labour's Mr Watson said: "A Government that boasts loudly and regularly about cutting waste and reducing red tape should not be presiding over a dramatic increase in the number of documents that are ferried around Whitehall in expensive chauffeur-driven cars.
"It is a shocking waste of taxpayer's money at a time when far too many people are struggling as a direct result of the policies introduced by David Cameron's Tories. It's an out of date practice from an out of touch government."
Ministers who used the Government Car Service most often (for themselves rather than their bags)

2011-12

Baroness Hanham - 377

Danny Alexander - 359

Lord McNally - 326

Mike Penning - 323

Simon Burns - 305

Hugo Swire - 294

Jonathan Djanogly - 287

Crispin Blunt - 265

Andrew Lansley - 263

Damien Green - 261

2012-13

Lord McNally - 291

Helen Grant - 154

Baroness Hanham - 152

Stephen Hammond - 119

Jonathan Djanogly - 101

Crispin Blunt - 100

Simon Burns - 93

Daniel Poulter - 86

Grant Shapps - 84

Anne Milton - 83

2013-14

Lord McNally - 201

Helen Grant - 114

Mike Penning - 112

Stephen Hammond - 98

Norman Lamb - 78

Damien Green - 70

Jeremy Wright - 67

John Hayes - 66

Mark Harper - 53

Greg Clark - 51

2014-15

Mike Penning - 247

George Eustice - 163

John Hayes - 80

Dan Rogerson - 79

Lord De Mauley - 56

David Laws - 54

Andrea Leadsom - 41

Nicky Morgan - 36

Baroness Stowell - 25

Karen Bradley - 24