Fitness has never been more fashionable in the UK. And fuelling the trend - along with neon trainers and ridiculously fit Instagrammers - is the London invasion of boutique fitness studios, offering innovative classes at often astronomical prices.
While many may see these studios as just a fad (and carrying on happily working out in their no-frills gym), there are others, like myself, who truly believe the hype and WANT TO TRY EVERYTHING, RIGHT NOW. We're the kind of magpies who get dazzled by the sparkly equipment, organic shampoo and a disco playlist. Tragic, but true.
Unlike the traditional gym chains, many of said boutiques offer what I like to call 'monofitness', that is: they specialise in one type of class. This is problematic if you like to have a balanced approach to fitness.
First world problems? Absolutely.
ClassPass offers an alternative. A modern gym membership that's taken heed of our desire to do it all, it partners with tonnes of studios across London (and beyond), allowing members to attend unlimited classes.
But at £79 per month, it's certainly not cheap. So before December took hold of my social life and shook me like a snow globe, I trialled ClassPass for a month, to find out whether it's really worth the money.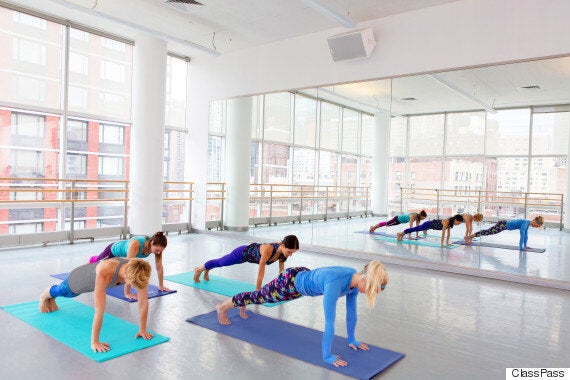 The choice... From HIIT and indoor cycling to yoga and barre, ClassPass allows you to have a more balanced approach to fitness, which is something the "monofitness" studios can't offer. Working in Central London, I had a lot of classes to choose from, my favourites include: Frame, 1 Rebel and Good Vibes.
The expert studios... As someone who spent years going to yoga at the gym, nothing beats going to a specialised studios - and being taught by trained yogis rather than PTs working overtime. This means I'm now really advancing my practice, at my regular gym I simply plateaued. The same goes for other classes, being able to tap into a studio that has invested time and money in getting the right staff and developing the right programme is priceless.
The value for money... In my month-long trial, I went to a total of eight classes which would have cost me £151 had I paid on a class-by-class basis. This saved me a total of £72. And it doesn't take a scientist to work out that the more classes you go to, the better value it is.
Unlimited classes aren't technically unlimited... Sure you can attend as many classes as you like, but you are limited to a maximum of three visits per studio, per month. This includes all studio locations (for example: Fierce Grace has six studios in London, but you can't visit each three times. It doesn't matter which location you visit, you can only visit Fierce Grace three times).
Some areas have more gyms that others... Working in Central London, I am spoilt for choice mid-week, but as a north Islington resident, my options dwindle by the weekend. Living in Zone 2, I have to travel a fair distance to workout - even more if I feel picky about the kind of workout I want - which suddenly makes that local gym slightly more appealing. Looking at the map, it seems to be the case across London - the further out you go, the fewer classes there are.
Don't assume you can book everything... Some studios withhold more popular classes for their own members, while others need you to book up more than 24 hours in advance.
Not all your favourite gyms will be there... There are a few trendy gyms that I was sad not to see available on London ClassPass: namely Psycle, an indoor cycling studio, and Barry's Bootcamp, the HIIT class with a cult-like following that is available in other cities on ClassPass. That said it is easy to find available studios that offer similar classes.
Sometimes you will get stung... Unlike some gyms that offer a few warnings before they issue you a fine for not attending, ClassPass slaps you straight in the face with a late cancellation (£10) or absence fee (£15). So make sure when you book, you anticipate the unanticipatable. Or give yourself more time between work and class.
You may need to pay for extras... Some studio are less equipped than others and you will need to rent padlocks, towels or yoga mats. you have to get to know the studios before you can work out with ease.
Needless to say, I'm definitely renewing my membership.
The key to getting the most out of ClassPass is to be organised: always have the kit you need, never miss a class and book ahead.
But it also gives you an unprecedented opportunity to try new things. I tried an aerial fitness class hanging from silks (which I won't be doing again) and a new type of yoga (which I most definitely will). You get the most out of fitness when you mix it up and shock your body, so embrace this opportunity to push yourself and discover new things.
Fancy trying ClassPass? Sign up here.
Related