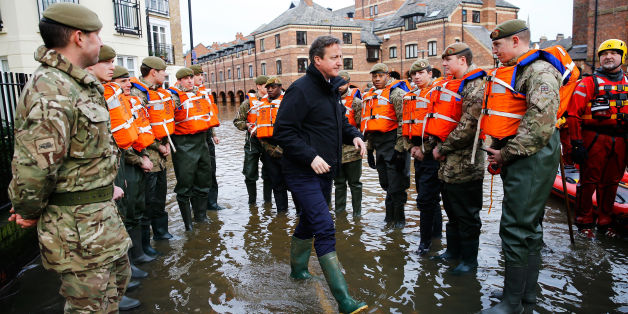 Darren Staples/PA Wire
Poor and rural areas vulnerable to flooding risk missing out on new defences because the method the Government uses to carve up funding is "not fit for purpose", critics say.
Questions have been raised over the Government's insistence on getting value-for-money for every pound it spends on flood defences for discriminating against some cities, towns and villages at risk.
The Huffington Post UK has been told by the Environment Agency that an average saving of almost £10 of damage caused by floods is being made for every £1 it spends on schemes.
The figure is higher than the £8 return for every £1 committed during the last major UK flooding two years ago, signalling it is more difficult for flood defence schemes to get funding now.
Labour and the Liberal Democrats fear the importance of the "benefit-cost" ratio - the main criteria when applications for flood defence cash are submitted - penalise poorer areas where property and land values are lower, and rural and suburban areas where fewer people live.
UK Floods: 6 Reasons Why Flood-Hit Communities Are Furious With Political Response To Crisis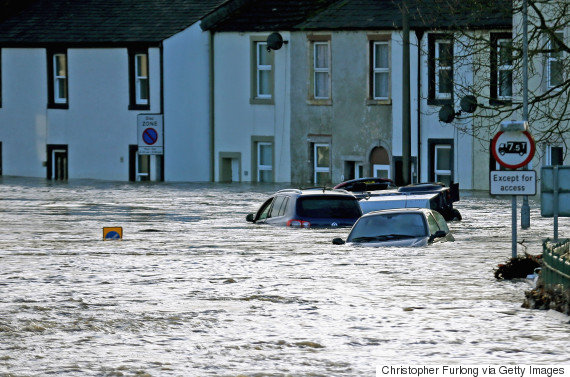 Water rises above cars as flooding blights the market town of Cockermouth, Cumbria, in December
There is also confusion over how stringently the formula is applied.
The 8:1 figure was widely quoted by the Department for the Environment and Rural Affairs (Defra) and the Environment Agency which it is responsible for.
For every £1 we spend on flood defences, we get an £8 benefit #growingtheeconomy https://t.co/LVWwzX6d2J

— Defra UK (@DefraGovUK) March 12, 2015
But when questioned by The HuffPost UK, Defra insisted there is no "rule" other than that a project cannot be loss-making - or gets a return of less than £1 for every £1 spent.
This is contrary to the widespread understanding that there was an 8:1 rule in place, as reported in the Guardian which suggested the "bar had been raised" in 2011 as the coalition Government was looking for cuts.
And the Environment Agency, which actually decides on funding flood defences and dealing with the aftermath of downpours, signalled a scheme with the "highest benefit-cost ratio will usually be the leading choice".
Defra refused to provide any details on the benefit-cost guidance Whitehall gives the Environment Agency beyond a two-line statement. It would also not provide details on when the 1:1 rule was introduced.
Flood-hit communities across Yorkshire and Cumbria in particular have complained bitterly about proposed defences being postponed or shelved, with their low return for investment seen as a reason why.
It was reported how a flood defence scheme for the Cumbrian town of Kendal - where almost 1,400 people were left homeless by the deluge - was in line for funding in 2011 but has been delayed until this year at the earliest. The Environment Agency suggests the project in Kendal would save £3.80 saved for every £1 spent - much lower than the current average.
The Environment Agency was more transparent when approached by The HuffPost UK.
After the last floods that wrought havoc in the South West in 2014, its then chairman Lord Chris Smith insisted there was a limit "on the amount we can contribute to any individual scheme, determined by a benefit-to-cost rule imposed on us by the Treasury" and that government rules "are at the heart of the problem" of schemes not getting built.
He said: "It's important to realise a fundamental constraint on us. It's not only the overall allocation for flood defence work that limits what we can do."
An Environment Agency spokeswoman explained the process.
She said in full:
"The decision process for capital FCRM (flood and coastal risk management) projects initially uses cost-benefit analysis to identify the option which offers the best economic value for the money invested.

"Other factors are also considered such as properties and infrastructure protected, environmental benefits, community choices, and partnership funding.

"The option with the highest benefit-cost ratio will usually be the leading choice but the process also tests if investing somewhere else would deliver a better return on investment.

"The final option choice is determined by local priorities and affordability."
The overall benefit-cost ratio achieved by the Government's investment programme since April 2011 is just under 10:1, she said.
The issue is at the heart of the ongoing row over whether cash for flood defences had been cut since 2010 - critics say it has, ministers say it hasn't. HuffPost UK detailed more here.
The value-for-money argument reared its head during the 2014 floods after David Cameron intervened to get two Somerset rivers dredged that had long failed the benefit-cost test.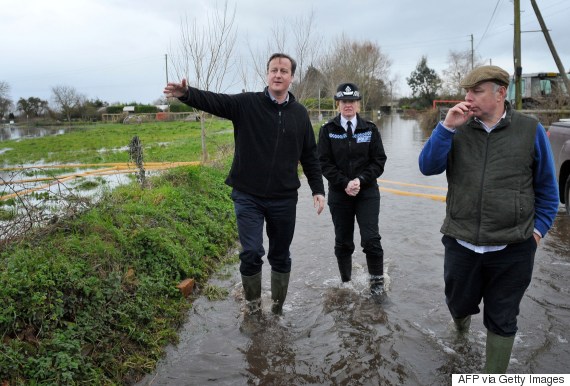 David Cameron in flood-hit Somerset in 2014
Examining the rules and guidance was supposed to be part of Cabinet Office minister Oliver Letwin's review in the aftermath. But, as reported, it only met on three occasions. He is having another go now.
Senior Labour and Liberal Democrats have told The HuffPost UK the Government needs to review its rules and guidance and display more transparency over how decisions are made.
Labour's Shadow Environment Secretary Kerry McCarthy said: "There is a shameful lack of transparency by the Government on what basis important decisions about our flood defences are being made, and the trade-off between value for money and where there is greatest risk or need.
"This is a real concern for small businesses, small farmers, and small communities who feel forgotten by the Government, particularly those who have suffered several flooding incidents in recent years.
"Given the dismal lack of action the last time Letwin was appointed to lead such a review, this latest version will not convince anyone that this Government takes flooding seriously."
.@timfarron "The PM pulling on wellies, wading through some water for a photo op does not make people believe he is doing enough" #flooding

— Lib Dem Press Office (@LibDemPress) December 29, 2015
Lib Dem leader Tim Farron, whose Cumbria constituency includes Kendal, said: "In 2012 I raised the issue that more funding was needed to deal with the torrential rain and 'freak' weather that was becoming more prevalent. In the years since I have repeated that call and do so again today.
"We need to urgently review every shelved flood defence scheme but more than that they must review this benefit-cost ratio. To me, it is not fit for purpose.
"It honestly breaks your heart when you meet people who have lost everything like the lady, a week before Christmas who came out of her home in tears to speak to me and said 'where can I turn, I've lost everything and have no insurance?' or the homeowner whose home floods virtually every time we have heavy rain and now faces a premium of over £2500. Of course, I do everything I can to help, but seeing their helplessness makes me angry and determined to do something to make it better."
A Defra spokeswoman said: "We consider all flood defence projects with a positive benefit-cost ratio. There is no rule limiting schemes above this threshold."