David Cameron used his appearance at prime minister's question time on Wednesday to accuse the Labour Party as a whole of being a threat to Britain's national security.
On Sunday, the Labour leader used an interview on the BBC's Andrew Marr programme to set out a variety of policy positions including lifting the ban on "sympathy" strikes and negotiating with Argentina over the future of the Falkland Islands. He also floated a new position on the renewal of Trident.
Rather than highlighting splits between Corbyn and Labour MPs, the prime minister changed tactics in an attempt to paint the entire Labour Parliamentary Party as holding the same views as their leader - positions Cameron believes makes Labour unelectable.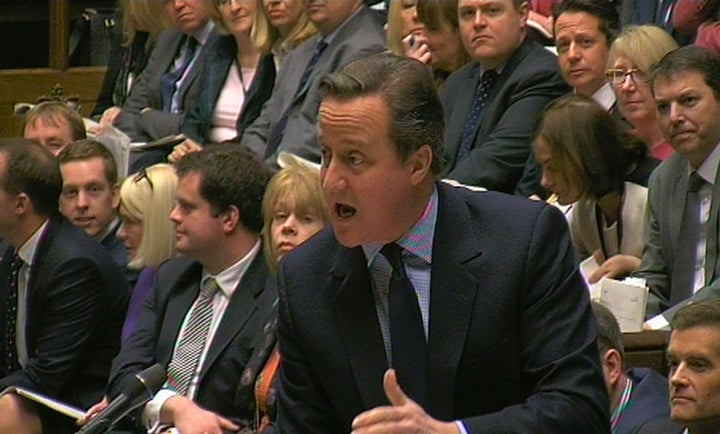 Cameron said: "This week has all been of a piece. A retreat of the Labour Party into the past. We've seen it with wanting to bring back secondary picketing, wanting to bring back flying pickets. We've seen it with the idea of banning businesses paying dividends and with the absurd idea that nuclear submarines should go to sea without their missiles.
"Anyone watching this Labour Party, and it's not now just the leader, it's the whole Labour Party. they are a risk to our national security, a risk to our economic security, a risk to our health service and the security of every family in our country."
The Conservatives view Corbyn's appearance on Marr as the gift that keeps on giving, with both defence secretary Michael Fallon and chancellor George Osborne using appearances in the Commons to quoting the Labour leader.
Corbyn is heading for a showdown with his MPs over the future of Trident, Britain's nuclear weapons system. The Labour leader is opposed to renewal, but several shadow cabinet ministers have hinted they will quit if he drops the party's support for the UK's nuclear deterrent.
Following prime minister's questions today, a spokesperson for Corbyn said the decision was "ultimately a matter for the Leader".
However this is disputed by some in the party who argue the Labour Party conference and shadow cabinet also have a say in setting policy.
Labour MP Tom Blenkinsop tweeted in response to the spokesman: "Er no it isn't. Back in your box." He added the leadership's position on the Falklands was "utterly bizarre".