James O'Brien scolded "comical" Jeremy Corbyn for providing "no opposition" to the Tory party during a rant on LBC on Wednesday.
The radio show host explained why it was that the Labour leader was to blame for a fall in support for the party.
He said: "It's unbelievable. The nuttiness that's coming out of the Corbynista camp now. Everyone who doesn't agree with us must be in the pay of some mysterious organisation that's dedicated to undermining Jeremy Corbyn."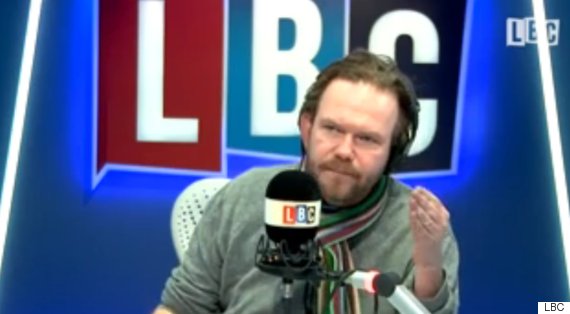 James O'Brien lambasted Jeremy Corbyn on LBC on Wednesday
He added: "You do not need to pay anyone to undermine Jeremy Corbyn - every time he opens his mouth, you count to three and he's put his foot in it.
"This is comical. Absolutely comical. It almost makes Donald Trump look like a genius."
Many people did not take kindly to what O'Brien had to say:
#LBC James o'Brien show being instructed by the establishment against Jeremy Corbyn again!

— David Sims (@kharikola1) January 20, 2016
@LBC @mrjamesob No opposition? At least Labour no longer pretending to be Tory-lite and actually opposing their policies now. Idiot

— David Henry (@SalfordDavid) January 20, 2016
@mrjamesob LOl "calm down dear" doesn't matter what you say, we love Corbyn

— Gracie Samuels (@GracieSamuels) January 20, 2016
@LBC @mrjamesob We've spent years asking for an honest politician, we finally get one and this is how people react

— Alex (@AlexOne871) January 20, 2016
@mrjamesob Maybe you don't know where Corbyn stands on anything is because you don't actually listen to him?

— Gracie Samuels (@GracieSamuels) January 20, 2016
@LBC @mrjamesob LBC in pocket of conservative run media in this country. Why stop listening to radio and right wing new channel of sky bbc.

— Rob burrows. (@RobertB56994280) January 20, 2016
@mrjamesob So all ppl who drop out of uni or poly or don't even go shld be barred from holding top job? #CorbynBashing reaches new heights!

— Gracie Samuels (@GracieSamuels) January 20, 2016
Public school educated presenter on @LBC sneers at #Corbyn for not having a university degree!! @mrjamesob being an arsehole again. #Knob

— No more New Labour (@jtw_25_51) January 20, 2016
To his critics, O'Brien said later on his show: "I get sent links to The Washington Post articles about how his comments on Trident weren't quite as mad as they seem.
"My point was that they seemed mad... He (Corbyn) was appearing on a television programme within a fixed amount of time in which he had to make a point and he made it appallingly badly.
"If you need a Washington Post editorial to explain what you really meant wasn't actually quite as bonkers as it seemed at the time, you're unelectable. That was my point."
SEE ALSO: