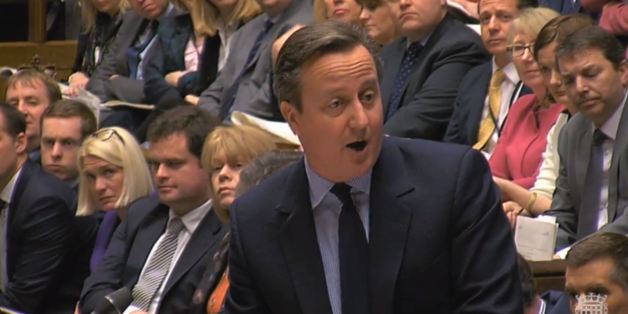 The PM predictably started fluffing himself with the unemployment figures:
Back at #PMQs. PM makes point that unemployment is at lowest level in a decade and record levels of employment.

— Darren McCaffrey (@DMcCaffreySKY) January 20, 2016
But Jeremy Corbyn was ready to jump in with steel mill closures and student maintenance grant cuts:
Great question from @jeremycorbyn on omission from Tory manifesto about cutting student grants, no answer from Cameron #PMQs

— Justin Madders MP (@justinmadders) January 20, 2016
John Bercow said "chuntering" again:
*Sedentary chuntering klaxon* #PMQs

— Jon Warner (@JonathanRWarner) January 20, 2016
Corbyn was feeling sassy:
That was quite amusing. Jeremy Corbyn raises an eyebrow at the baying Tory front bench, "Are you done?"

January 20, 2016
But more or less everyone was being particularly rowdy:
#PMQs. What a circus. What a joke.

— State Control™ (@State_Control) January 20, 2016
#PMQs I'm going to have to stop watching this, bunch of shouting savages. Shut up and let me hear whats being said - bloody children.

— Marcus Kerr (@marcuskerr) January 20, 2016
Cameron said he "misses" Ed Balls. Can't imagine why.
BREAKING: Cameron misses Ed Balls #PMQs

— Matt Singh (@MattSingh_) January 20, 2016
Cameron defended tripling tuition fees by citing Labour's introduction of fees:
Yes, it was Labour who introduced the fees and loans system. But in fairness, I think we can agree this is not Blair's Labour Party. #pmqs

— Skylar Baker-Jordan (@SkylarJordan) January 20, 2016
When Cameron acts like tuition fee hikes aren't his fault because Labour introduced tuition fees #PMQs pic.twitter.com/qzNDx5jDNC

— Ryan Barrell (@RyanBarrell) January 20, 2016
There was a big argument about NHS nurses:
Corbyn: Student nurses now face equivalent of huge pay cut with new charges. #PMQs

— Simple Politics (@easypoliticsUK) January 20, 2016
The government says universities had to turn down 37,000 nursing applicants in 2014. #PMQs

— Red Box (@timesredbox) January 20, 2016
New line from Corbyn: He quotes Vicky from York, who wouldn't have been able to train as a mental health nurse without a full bursary #PMQs

— UKPoliticalNews (@UKPoliticalNews) January 20, 2016
How does scrapping the support system that allows ppl 2 train 2 become nurses help train more nurses, Mr Cameron?

January 20, 2016
Angus Robertson came out all guns blazing...
SNP @AngusRobertson says British planes and bombs being used by Saudis to kill thousands in Yemen #pmqs

— norman smith (@BBCNormanS) January 20, 2016
Once again, David Cameron had a planted question to set him up for a weak joke:
"When it comes to Beatles songs, I suspect the Leader of the Opposition prefers Back In The USSR." - David Cameron #PMQs

— Oliver Cooper (@OliverCooper) January 20, 2016
The planted questions at #PMQs make it absolutely unbearable.

— Fergus Boden (@fergusboden) January 20, 2016
Fixed it #PMQs pic.twitter.com/PvpQX6W8e2

— Becca (@fractalbears) January 20, 2016
SEE ALSO: