Police have launched a murder investigation after a homeless man was found in a burning tent, having suffered "a number of injuries".
Daniel Smith, 23, was discovered after firefighters were called to a tent fire under railway arches off Irwell Street and Trinity Way, close to Salford Central Station, about 1.20am on Wednesday.
Smith, who is originally from Ashton-Under-Lyne but had been homeless for some time, died from multiple injuries, police revealed on Thursday.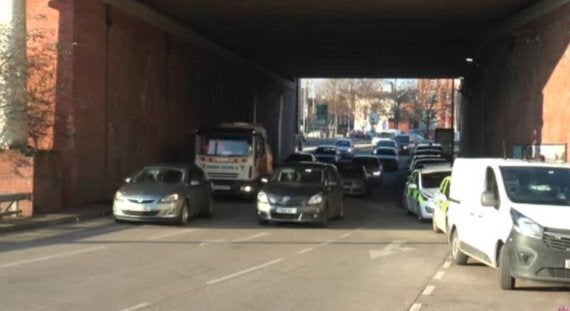 A murder investigation has been launched after homeless man Daniel Smith was discovered in a burning tent near these railway arches close to Salford Central Station
It is understood that blood splatters were found in the tent, and police believe Smith had been attacked before the fire was deliberately lit, the Manchester Evening News reported.
Chief Superintendent Mary Doyle, head of Salford Police, said inquires over the last 24 hours had established that Smith had "suffered a number of injuries" before his body was discovered when firefighters extinguished the fire.
She said police were yet to establish a motive, saying, "it could be robbery or it could be a dispute with other homeless people".
Doyle said the fire was being treated as a "deliberate ignition" and appealed for witnesses to come forward to help police determine what had happened before the tent was set ablaze.
She said: "We believe the answers to our questions about what happened to this man lie in the community, particularly other members of the homeless community who may have been nearby at the time.
"Someone must have seen or heard something so we are appealing to anyone with even the smallest bit of information to come and tell us what they know."
Doyle said officer's thoughts were with Smith's family at this "terrible time" and said police were "determined to find out who is responsible and bring them to justice".
Police have traced a man who alerted emergency services to the arson who was now being treated as a witness, Doyle said. A detailed search of the murder scene has taken place and a nearby building being used by homeless people as shelter, has been sealed off.
On Wednesday homeless man, David Palmer, 37, told the BBC: "I heard that kids beat him up and set him on fire. I was going to go there last night, it could have been me."
He added people who were rough sleepers sought shelter underneath the arches "to keep warm".
At the time police said they were unable to verify the claims, with Detective Chief Inspector Chris Walker saying that police were "investigating all possibilities, nothing is being ruled out".