Adele Mortimer, 54, claimed that she "must have been spiked" in the 'Gay Village', also known as Canal St.
Mortimer was captured on covert video footage as she slammed the pair sat opposite her on Wednesday morning, "I don't want no foreign nurse looking after me, you think I want you to look after my care when I'm an old woman? I don't fucking think so love," she said.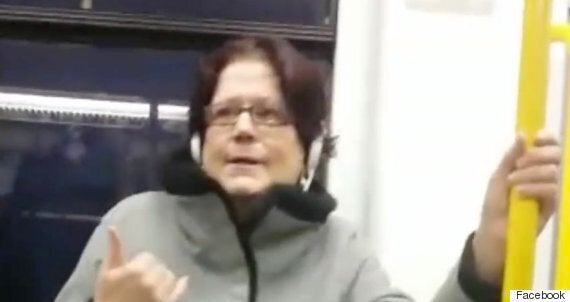 The woman's rant was branded racist
The unemployed mother-of-four did apologise to the two Asian women at the receiving end of her abuse, speaking to the Manchester Evening News she said: "I'm not a racist. I'm absolutely ashamed. It's not me. It's definitely not me.
"I'm absolutely devastated. I would absolutely say I'm very sorry."
Also revealing to the paper: "I hadn't been out for a long time. I was out with a friend and we ended up in the Gay Village. My drinks must have been spiked in the Gay Village. I wasn't myself after that."
The clip shows ticketless Adele railing against one of the women in particular who identified herself as a university lecturer.
""I don't want you teaching any of my kids," Mortimer says in the video.
The clip then shows a person who intervenes in an attempt to calm things down, but the 54-year-old continued undeterred, saying: "I don't give a fuck".
Moments later the tram stops and the driver tells the woman she has to leave the vehicle because she is upsetting the passengers.
The recording has now been shared with the police who say they are reviewing it to see if any offence has been committed.
It has been shared wildly since the Manchester Evening News shared it on its Facebook page.
Some people reacting to the clip described her as "vile and ignorant".