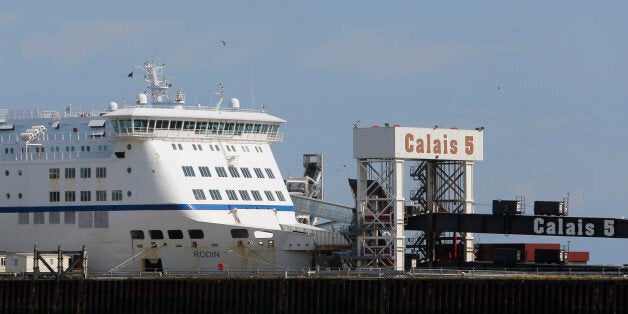 France has outlined its commitment to maintaining law and order after migrants stormed a UK-bound ferry in another bout of chaos in Calais.
Pictures posted on social media showed hundreds of people running towards the port and a water cannon reportedly being fired to get migrants to disembark.
Bernard Cazeneuve, the French Interior Minister, said 35 people, including 26 migrants and nine activists, were arrested. Fifteen were taken into custody, the Press Association reported.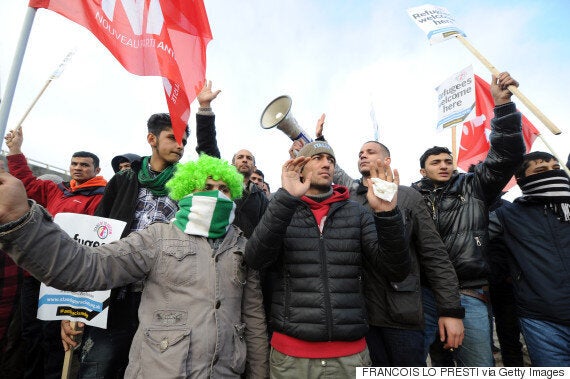 Migrants march in the French port city of Calais during a demonstration to support the migrants and refugees who live in the 'jungle'
Trouble flared after hundreds of people marched towards the Port of Calais from the Jungle site where some 4,000 migrants and refugees are camped.
Amid fresh calls for the French military to be deployed in the port city, Cazeneuve said the country's government had a total determination to maintain law and order.
In a statement, he said mobile forces, including CRS and squadrons of gendarmes, supported by territorial units and border police, had been mobilised for several months.
And he said significant work had been done around the Channel Tunnel and Calais port with the help of the British authorities to prevent disorder.
Humanitarian solutions had also been implemented, including accelerated asylum procedures, which had helped reduce migrant numbers at Calais to 4,000 from 6,000 in recent months, Cazeneuve went on.
In ankle-deep mud, he toured Grande-Synthe, where around 2,500 mainly Kurds are sleeping rough in the cold in flimsy tents, and said the conditions were a "disgrace".
The Road Haulage Association's chief executive Richard Burnett said the problems facing British truckers in Calais were routine as he called for urgent action.
He said: "This shocking breach of security clearly shows that the migrant mayhem in and around Calais is not being tackled.
"This latest episode has made the headlines, but the many incidents of attacks and intimidation faced by our British drivers on a daily basis are going unreported as, depressingly, they are now being regarded as routine.
"It is now time for the authorities to acknowledge and meet our demand for the French military be deployed to secure the port and its approaches."
Burnett said immediate action was necessary, warning that it is "only a matter of time before our worst fears become a reality and a UK-bound truck driver is killed".
A statement from the Port of Dover said the Port of Calais reopened more than two hours after experiencing "migrant activity" which disrupted cross-Channel services.