A Britain First video of the political group staging a 'Christian patrol' through Luton's Bury Park armed with wooden crosses has been viewed over 15 million times on their Facebook page - but even local church leaders have distanced themselves from the far-right group.
About 20 members of the party, led by Paul Golding and his deputy Jayda Fransen, recorded themselves walking through what they labelled an "Islamist hotspot" on Saturday, where they handed out newspapers and confronted local Muslims in what charity Tell Mama said was an "intimidating" fashion aimed at "inflaming" tensions.
During the march Britain First wrote that they had faced "ferocious hostility from local Muslims", and said their video was a "shocking look into the Islamisation of our beloved country". Its activists, the party said, were pelted with eggs and verbally abused by Muslims who claimed to have "taken over" Luton.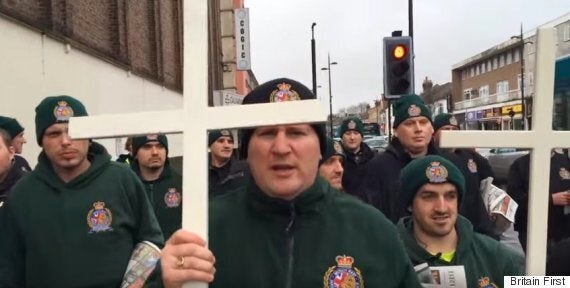 Britain First leader Paul Golding leads the 'Christian Patrol' through Bury Park in Luton
In the nine-minute clip - which has also gained over 350,000 views on YouTube - Fransen gets into a heated argument with a local Muslim, where she tells him Britain is "our country, not your country, it's a Christian country".
When the man replies that she is jealous because we are "taking over", Jansen adds: "You think you can take over a town and say 'it's your country, you're taking over'... not for long, see this cross, it will prevail." Later she confronts a Muslim woman about her hijab, telling her that she's "been hidden because your men can't control their urges", something that sparks an extended confrontation that clearly upsets the woman.
As Britain First members make their way through the town an increasing crowd of Muslim men surround them, as police attempt to keep the groups separated. At first local men simply object to the march, but they become increasingly agitated as party members continue to taunt them with the line "this is our country, not yours". At several points local men charge Britain First activists, threaten to "fucking hit you, motherfucker" and call Fransen a "slag". One local man also blindsides a Britain First member in an attempt to push him to the ground.
Bury Park is a 'vibrant and welcoming kind of area, that's the message we want to get across'
Tell Mama said Britain First's confrontations with locals are being used by the party to "create the notion of 'them and us'. It said "predictably" young men took "the bait" in Luton, which led to Britain First activists "agitating and further adding to the growing tensions".
The group, which opposes anti-Muslim hate and Islamophobia, on Monday compared British First's march to those undertaken by the 'Muslim Patrol' - a group of Islamic vigilantes - who harassed and attempted to shame members of the public in London's Whitechapel and Tower Hamlets in January 2013, and were accused of homophobic attacks. Several members of the group were later arrested.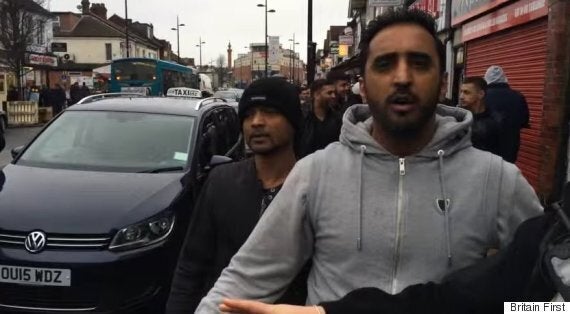 Britain First members have been accused of "inflaming tensions"; a Luton man is pictured above confronting the activists
Tell Mama said after the 'Muslim Patrol' was prosecuted it "made it clear that any faith-based patrol or vigilante group was contrary to the rules and criminal and civil laws of this country" and that they should not be allowed to take place.
"We stated that they could possibly spark off serious unrest in areas and that action needed to be taken to send a clear message that the State would not tolerate any behaviour which intimidated citizens walking our streets.
"Sadly, it is now 2016 and these inflammatory actions continue with Britain First trying to paint themselves as 'defenders' of Christian values, something that they are far from. They continue to walk into areas, stir up unrest and walk away leaving local communities to pick up the pieces.
"It is also interesting to note in the video of their agitation, that their actions lead to a young female policewoman finding herself in the middle of groups of testosterone laden young men looking to fight. Is this really the 'patriotism' that our country needs – the answer is a resounding no."
On Sunday local Christians handed out roses around Luton, keen to distance themselves from Britain First's march.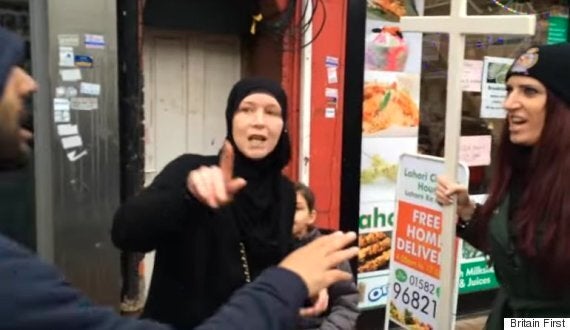 Britain First deputy leader Jayda Fransen confronts a local women about her hijab
In one video, posted by the group on YouTube, a local priest says: "We want to work for a cohesive society, where people get on, where it is mixed, and where everyone feels they can come and live... so this isn't a 'no-go zone'... as you sometimes hear it being said. It's absolutely not a no-go area. It's a vibrant and welcoming kind of area and that is the message."
In another clip the priest, along with a local Christian woman, are seen speaking with the Muslim woman that Fransen confronted. She is told that Britain First do not "represent Christianity". The Christians tell the woman that they don't want the "horrible atmosphere" the party created on Saturday, and want to "live together with our neighbours, whatever faith".
Britain First has subsequently questioned their loyalty, labelling the Christian leaders "treacherous".
On their website the party wrote: "So-called 'Christian leaders' in Luton have queued up to condemn Britain First after our Christian Patrol in the Bury Park area.
"These 'Christians' are gormless, trendy, politically correct, tree-hugging, sandal wearing hippies who only care about 'multiculturalism', appeasing Islam and publicising themselves."
'Real Christians of Luton' hand out roses and speak to Bury Park residents the day after the British First march
Tell Mama said it was "high time" action was taken against Britain First and the way that it "seeks to create and foment disturbances in communities" as it was "concerned that their actions may lead to serious unrest or physical assaults and this is the last thing we need for our country and our communities".
Bedfordshire police told the Huffington Post UK that officers were "immediately dispatched" after learning that Britain First were staging a march.
A spokeswoman said no arrests were made but an investigation had been launched to "determine whether any offences were committed during the course of Saturday's events". Anyone with information is asked to contact Bedfordshire police.
Police added that additional patrols had been conducted in Luton for "community reassurance".
Related