People are being warned to stay away from five dead sperm whales that have washed up on Skegness beach after pictures appeared to show a man trying to remove teeth from one of the animals.
"No dignity offered even after death" one person wrote on Twitter, whilst others called on social media users to "name n shame" the unknown man, who can be seen leaning into the mouth of the giant mammal.
On Monday it emerged that graffiti has been sprayed onto the corpses of two of the whales, sparking outrage that the carcases had been desecrated.
There are currently no security measures at the beach, but a cordon has been put around the whales to deter people from interfering.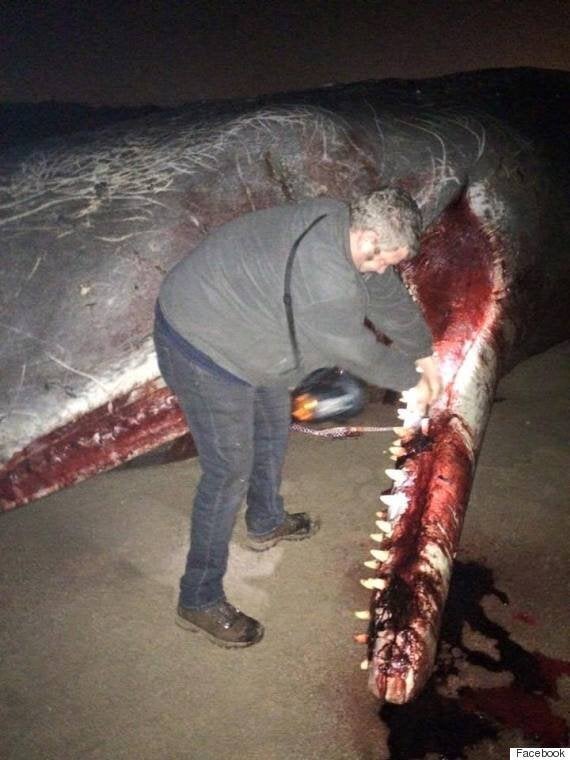 People are claiming the man cut teeth from the dead whale
Daryl Audi Hind, a visitor to the beach, uploaded pictures to Facebook: "Went up to c dead whale last nite some sad act cutting his teeth out name n shame this man please," the caption read.
A spokesperson for East Lindsey District Council told The Huffington Post UK that he was unaware of the incident, and warned people to stay away from the whales.
Others were quick to comment:
However some commenters have suggested that the man could have been taking samples for research purposes.
James Gilbert, from East Lindsey District Council, added: "While it's understandable that people want to go and view the whales, we advise people not to go through the cordon to allow a post mortem examination to be carried out.
"For this reason, and for health and safety reasons, we would urge people to stay behind the cordon.
"We are just trying to go through the correct process - we want to know why they died and beached here."
The whales will be on the beach for another few days while the council works with a contractor to remove the carcasses.
There is currently no security and no plans to implement it around the mammals, although there are taped-off cordons.
Two of the whales were found on Skegness beach Saturday evening, while another was discovered a few miles away early Sunday morning. Another was discovered at Skegness Monday afternoon. They are believed to be from the same pod as a whale that washed up in Hunstanton, Norfolk, on Friday.
Along with spelling mistakes and poor grammar, a graffiti artist also incorrectly drew the CND logo on one whale's fin, producing the Mercedes symbol instead.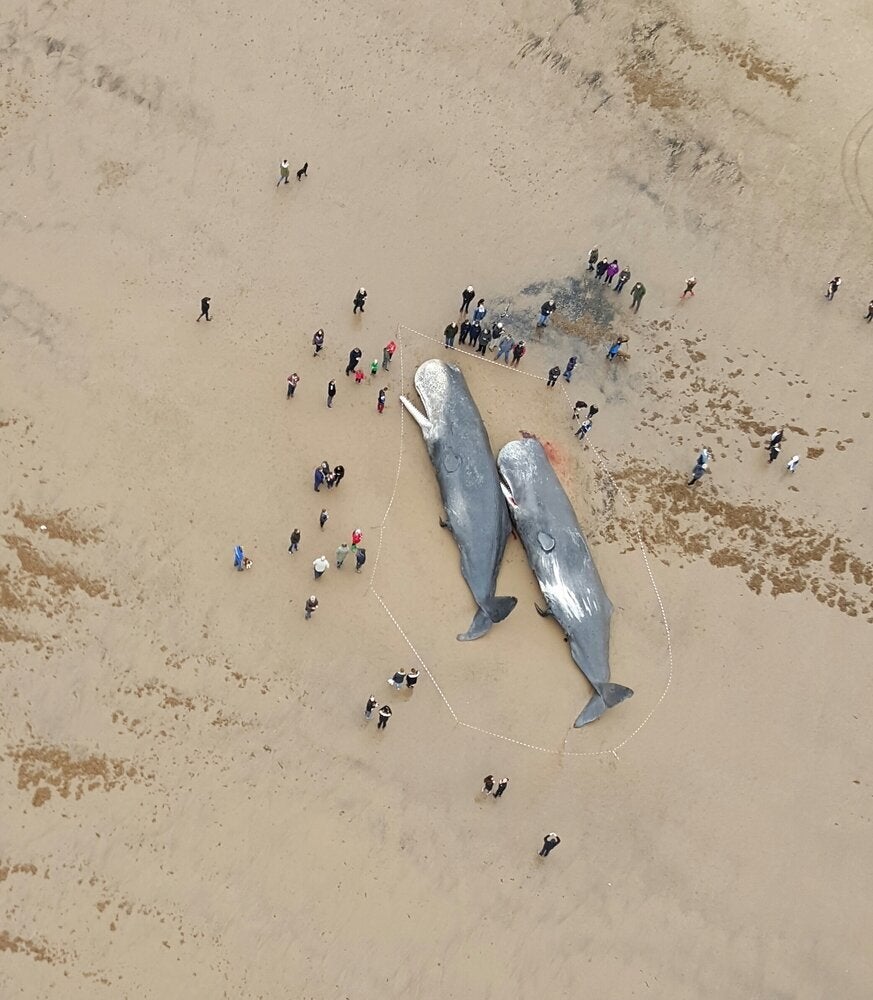 Dead Sperm Whales In Skegness