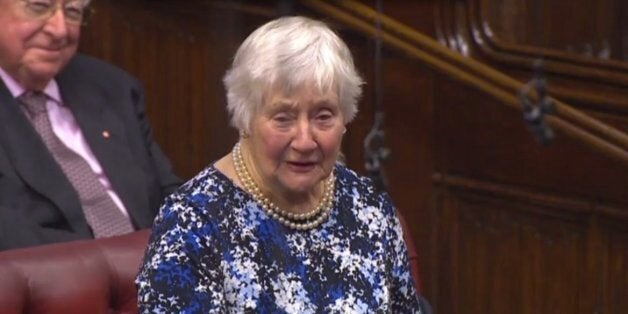 Veteran Lib Dem peer Baroness Shirley Williams used her final speech in Parliament this afternoon to urge politicians from all parties to come together to help fix the NHS.
The former Cabinet Minister, who was first elected as Labour MP in 1964, is standing down from the Lords after 23 years in the Upper Chamber.
Baroness Williams was one of the so-called 'Gang of Four' Labour politicians who quit the party in 1981 to form the SDP – which later merged with the Liberals to become the Liberal Democrats.
This afternoon Baroness Williams used her valedictory speech to call on politicians to protect great British institutions such as the NHS, the BBC and the Open University.
She dubbed the public sector organisations examples of the "special genius of the United Kingdom", and referring to the NHS Baroness Williams said: "I still have to say to my fellow politicians why can't you get together to propose, regardless of party, ways in which we can sustain the NHS over the years?"
She also called the BBC "one of the great institutions of the Kingdom and one that is widely recognised throughout the world."
With former Lib Dem leader Nick Clegg watching on from the bar of the Lords, Baroness Williams explained that while she was retiring from Parliament, she was still looking to play a key role in the upcoming EU referendum.
The 85-year-old called the vote "the most central question this country has to answer" as she reaffirmed her lifelong pro-European views.
The Baroness, who took a leading role in the 1975 referendum on whether the UK should stay in the European Economic Community, said issues such as climate change and tax avoidance could only be dealt with through closer cooperation with the UK's international neighbours.
It was a typically outward-looking speech from Baroness Williams, who chose not to dwell on her own career and achievements but instead to focus on the problems she sees facing the country.
Related