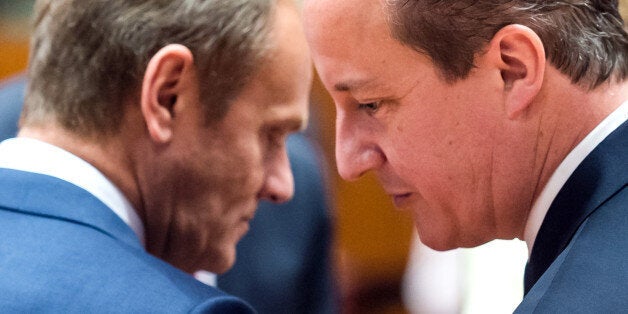 David Cameron's bid to reset the UK's relations with the EU is set to enter its 'endgame' in earnest on Tuesday, with the publication of a 'new settlement' between London and Brussels.
The Prime Minister will inform the Cabinet of the latest plans, before delivering a keynote speech to coincide with the 11am publication of proposals drafted by European Commission president Donald Tusk.
Key issues such as curbing migrant benefits will feature, although it is unclear whether the 'emergency brake' plan will be too weak to satisfy Eurosceptic MPs or too strong to prevent blocking moves from Eastern European states like Poland.
With Downing Street hoping to resolve the issues in time for a crunch summit this month, and with Mr Cameron hoping for an EU referendum to be held by late June, No10 sources revealed a further bit of progress in the talks.
Tusk is expected to announce MPs in Westminster will be able to join forces with parliamentarians in other EU countries to block unnecessary or unwanted EU legislation under the draft deal.
The proposals will allow the Prime Minister to say he has delivered on a manifesto commitment and secured an explicit agreement to introduce a 'red card' for national parliaments. Mr Cameron has also persuaded Brussels to propose that this could be triggered up to 12 weeks after a draft EU law is proposed.
The draft proposal provides for a legally binding decision allowing 55% of national Parliaments to club together and force the 27-strong Council of ministers to either stop the proposed legislation or amend in a way that addresses the concerns raised by Parliaments.
Eurosceptics were swiftly pointing out that it will be difficult to clear the 55% hurdle within 12 weeks and that the plan falls a long way short of a real 'red card' for the Houses of Parliament itself.
Mr Tusk, whose talks with Mr Cameron broke up on Sunday night with him saying 'no deal' had yet been done, Tweeted on Monday a signal that a breakthrough had been achieved.
But even with the publication of the new document on Tuesday, Mr Cameron is braced for an "intense negotiation" with other EU leaders over the next fortnight.
It remains to be seen whether Poland and other states will back down on their demands that any changes for the UK don't discriminate against their own citizens, who travel to the UK to work in large numbers.
Popular in the Community