'Alice Through The Looking Glass' serves as a sequel to Tim Burton's reimagined version of 'Alice In Wonderland', released in 2010.
The second part sees Johnny Depp and Helena Bonham Carter returning as the Mad Hatter and the Red Queen, while Alan also once again lent his voice talents to the role of the Caterpillar.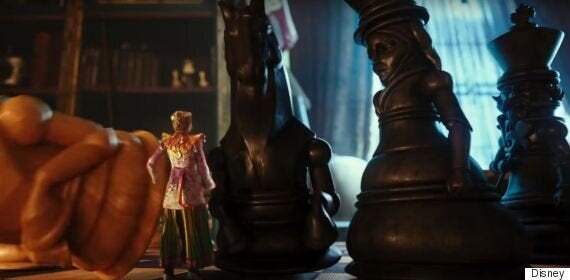 Alice is confronted by some rather scary chess pieces in the new trailer
He's heard narrating both of the new clips, containing brand new footage from the upcoming film, titled 'Tick Tock' and 'Hurry Up'.
Both teasers contain several references to 'time', which is one of the upcoming sequel's recurring themes.
Scroll up to watch 'Hurry Up', while the slightly different 'Tick Tock' is below (story continues after video):
Mia Wasikowska will also be back in the lead role of Alice Kingsleigh, a grown-up version of the beloved literary character, while Stephen Fry, Barbara Windsor and Michael Sheen are also returning to voice iconic Lewis Carroll creations.
New additions to the cast include former 'Downton Abbey' star Ed Speleers and British comic actor Sacha Baron Cohen, who appears in the role of Time, a character who is half-man and half-clock.
The new release serves as Alan Rickman's final film, following his death last month, at the age of 69.
'Alice Through The Looking Glass' hits UK cinemas on 27 May 2016.