Bassam, a 14-year-old living in Jordan, has big dreams of becoming a wrestler. But the teenager has more hurdles to jump than others his age, as he is currently living in Za'atari, a camp housing 80,000 refugees who have fled Syria.
"Life was good, but then suddenly it got dangerous," he recalls. "There was bombing and we would hide in the basement.
"Dad would lock us in there for safety. I was most scared for my little brother; I used to carry him to the bomb shelter all the time.
"When the bombs went off, everyone was scared. We couldn't sleep at night; if we did we would have nightmares."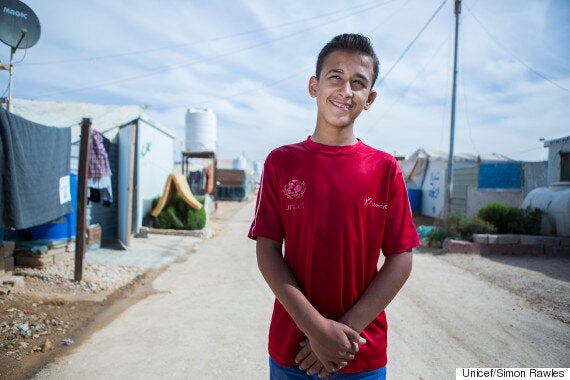 Bassam has been in Za'atari for four years
The teenager's mother was killed in Syria, and Bassam, who was 11 at the time, witnessed his cousin's hand being blown off during an attack. He became withdrawn and angry, while his sister was so traumatised she simply stopped walking.
"The journey to Jordan was horrible, the streets were full of blood, and people were injured. We were shot at in the car as we tried to escape.
"My dad thought we would only be staying for a couple of months, we have now been here for four years. Dad thinks about going back, but then we hear the explosions in Syria from the camp, and he changes his mind."
Now, Bassam is "completely unrecognisable", according to his father, who runs a small restaurant for other refugees in the camp.
"When his mother died and we had to flee Syria, Bassam became withdrawn and was getting in trouble," Khaled Ali said. "He didn't want to go to school. He was a completely different person."
The teenager, with the help of funding from UNICEF, is being trained by another Syrian refugee - a former Arab champion who held the national wrestling title for 12 years.
Mohammed Al Karad, a 33-year-old from Dara'a, a city in southwestern Syria, coached the country's national team, and rose to prominence for his wrestling skills.
Al Karad now coaches at the camp's Adolescent Friendly Space, which is funded by the UK and UNICEF, and provides psychosocial support, safe spaces and recreational facilities to teenagers who are troubled and experiencing behavioural issues.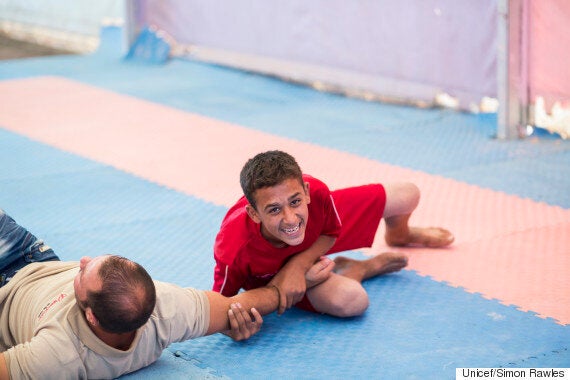 Bassam in training with former wrestling champion Mohammed Al Karad
"I wanted to serve my community and help youths adjust to this very difficult life," the former champion previously said. "I came as a refugee. I live in a tent. I know how hard it is."
More than 700,000 of the estimated 1.4m refugee Syrian children living in neighbouring countries are not receiving any education. Many are also suffering from the long term negative physical and psychological impacts of the crisis.
Al Karad is determined to be the role model many of the young Syrian boys lack.
"What they've come from is one of the most brutal conflicts of our generation," he explains. "If a child has witnessed violence then I have to release this violence or negative energy inside them through training."
The boys are put through their workout, which combines technical skill with physical strength, and at the end of the session they sit down to discuss issues. Al Karad also encourages them to enrol in the informal education classes that are on offer in the camp.
"In wrestling, first of all there are ethics," Al Karad adds. "The values of the game are not to hurt anyone even if you have the chance to."
There are more than 40,000 children living at the camp, and Al Karad is a star in many of the youths' eyes.
"I love wrestling, and most of all I love Coach Mohammed," Bassam, who attends the classes every morning before school, says. "He knows when we have a problem, and he helps us deal with it."
Although Bassam is still unable to talk about his mother, he has high hopes for his future: "I want to become a wrestling champion, but I want to go to go to school too. Coach Mohammed has taught me that."
The UK, Germany, Kuwait, Norway, and the United Nations are co-hosting a Supporting Syria and the Region conference in London on 4 February to raise vital funding to meet the needs of those affected.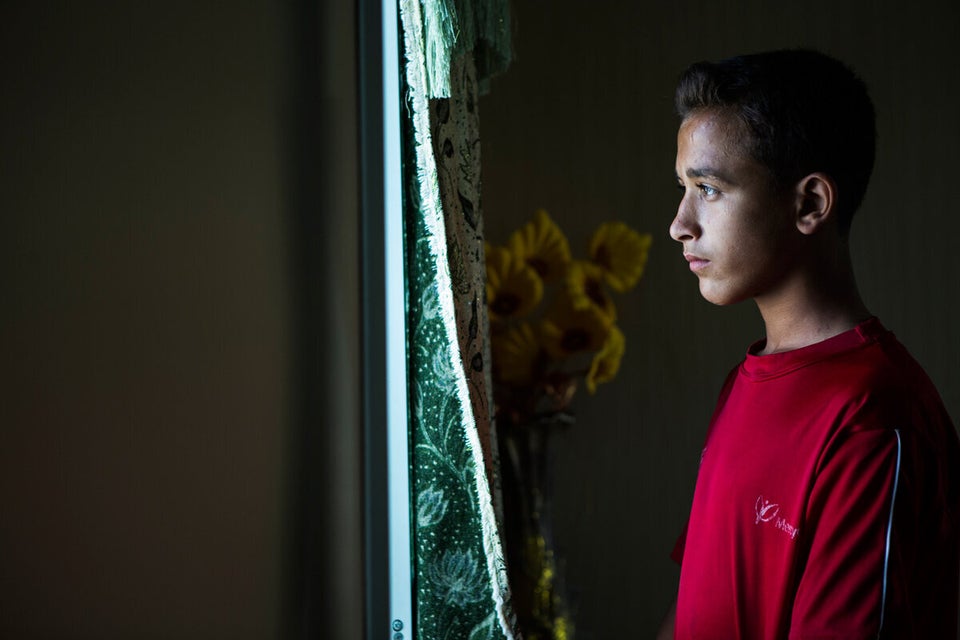 The Syrian refugee hoping wrestling will help him escape camp Za'atari
If you wish to donate to UNICEF's Syria appeal, the UK government is matching all public donations until the end of February. You can find out more here.