A business owner has been fatally shot during an attempted robbery by masked men at a warehouse in Digbeth, Birmingham.
Akhtar Javeed, 56, was found injured at the scene after officers were called to fast food distributors Direct Source 3 Ltd, in Rea Street South, just before 6.40pm on Wednesday.
He was rushed to hospital by paramedics but was pronounced dead shortly afterwards.
West Midlands Police believe two men were involved in the robbery.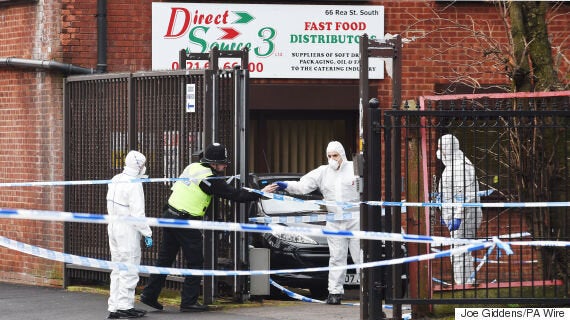 Police at the crime scene
Superintendent Andy Parsons confirmed the gunmen sought out Mr Javeed's business specifically.
He told reporters at the scene: "It's early stages of the investigation but at this moment in time we believe this was a targeted attack at Mr Javeed's premises and the purpose of that attack was a robbery.
"There were a number of staff members in the premises at the time. We are working with them this morning both in terms of trying to understand what they can offer in terms of evidence but also offering support because, as you can imagine, it was a hugely traumatic incident.
"We don't understand what was the motive of that attempted robbery. But everything we understand at this moment in time indicates it was very specifically aimed towards Mr Javeed's premises."
"If you have any information that could help our investigation, please get in touch as soon as possible."
Any witnesses should contact police on 101 or call the independent charity Crimestoppers, anonymously, on 0800 555111.