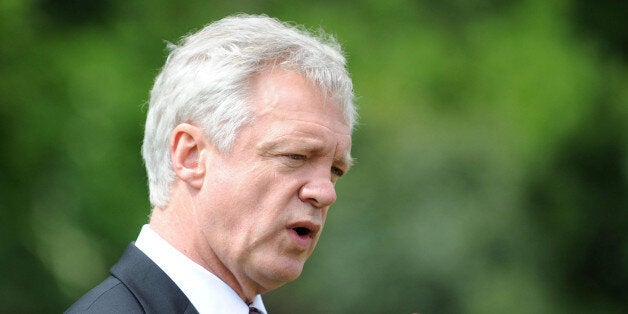 Former Tory leadership contender David Davis is urging MPs to "vote with their brains" not their hearts in the upcoming EU referendum.
In an exclusive Huff Post UK interview, the former Europe Minister said it was silly "gagging" well-known eurosceptic Cabinet ministers until the referendum campaign officially begins.
Mr Davis, who will appear alongside Ukip leader Nigel Farage at a cross-party Grassroots Out event in Manchester on Friday, joked he would stand alongside the Devil himself to get the UK out of the EU.
But he also conceded the campaign to keep the UK in the EU was currently favourite to win the referendum.
Speaking to the Huff Post UK ahead of a speech today at the Institute for Engineers this morning, Mr Davis said: My response to him saying to MP's 'vote with your hearts' is vote with your brains.
"Look at what's happened the last 40 years we've been in this organization. Look at how good it is at its economics – the euro. Look at how good it is at managing immigration – Schengen.
"Look at how good it is at foreign policy – Ukraine, Yugoslavia and all of that, and then decide is this a club you want to be a member of? Can you afford the fees anymore?
"If you use your head and look at the alternatives outside, they actually are quite attractive."
Mr Davis served as Europe Minister under John Major from 1994 to 1997, and was appointed Shadow Home Secretary in 2003.
He came second to Mr Cameron in the Tory leadership election of 2005, and has since earned a reputation as an outspoken backbencher.
He today claimed the Government is at risk of infuriating voters on both sides of the EU debate by not running a fair referendum.
He said: "There will be people who think that when the Government goes out pumping its propaganda as it is now doing and stopping ministers saying what they think will be seen as being unfair.
"To be honest with you I don't think the ministers coming into the battle will make a great difference. I think they're all going to land where they land.
"Iain [Duncan Smith]'s view is known so it sort of silly gagging him. Chris Grayling's view is known so it's sort of silly gagging him. I don't actually think Boris is constrained.
"The only way a minister speaking out will make a difference to the argument is if it's a surprise.
"The issue of when ministers can speak is an issue of fairness. They should be able to speak as soon as possible. It should be now. David Cameron has been campaigning for in for five years."
He added: "That would be divisive for everybody and it means the bloody issue will never go away. In a way, this issue has dominated, not my life but Parliament, for nearly all the time I've been here and I'd like it to be resolved one way or another. If my side of the argument loses - I don't want to say I hope we lose badly but if we don't win - I don't want it to be indecisive.
"I don't want to lose at all but it's imperative it's seen to be fair."
As well as the Ukip leader, Mr Davis will also share a stage at Friday's Grassroots Out event with Labour MP Kate Hoey and the Chairman of the Conservative's Backbench Committee Graham Brady.
He said: "The reason I said yes to GO is they are not making any bid for designation. They're modus operandi is to be open to anybody.
"I don't care who else is on the platform with me. My job in the next three months is to do what I can to influence the most important decision for a generation."
He added: "At the moment they are fighting for who gets designated. They won't unite. The thing about these battles is you don't want to fuss about what you can't do, but fuss about what you can do. I suspect what's happened is each group has looked at what it's natural catchment is and decided what's influential with them.
"My view is that Vote Leave will get the designation, but to be fair to Leave.EU, and to be fair to Ukip, they got 3.8million votes. You've got to pay attention to them. My view is from my personal point is I'll go and argue this wherever.
"If the Devil turns up and he's on my side I'll be there."
When asked if he felt whether Leave would win the referendum, Mr Davis struck a cautious note.
He said: "On balance, if I was betting my salary, I would still bet on a Government win but I wouldn't take very long odds on it. It's significantly less likely today than it was a week ago, and a lot less likely than it was six months ago."