David Miliband has delivered a stinging rebuttal to claims that accepting more refugees would "overwhelm" Britain, as world leaders gather in London for talks on the Syria crisis.
More than 70 countries will be represented at the conference co-hosted by Britain, Germany, Norway, Kuwait and the United Nations.
Speaking on Channel 4 News, the former foreign secretary claimed there was no evidence that the UK would be "overwhelmed" if it accepted more refugees: "I always say to people, if it was 25,000 [refugees] a year, that would be 40 per parliamentary constituency.
"No one is going to tell me that my former constituency of South Shields would be overwhelmed by 40 [refugees] per year."
David Cameron total pledged an additional £1.2bn to support refugees fleeing Syria's brutal civil war. The UN is appealing for £5.4bn to fund aid operations for the 13.5 million people displaced by the fighting and in need of assistance. It comes after last year's UN appeal for £2bn was 60% under-funded.
Cameron said the contribution – to be delivered over the next four years – will take total UK support since the start of the crisis in 2011 to £2.3 billion and should "set the standard" for the rest of the international community.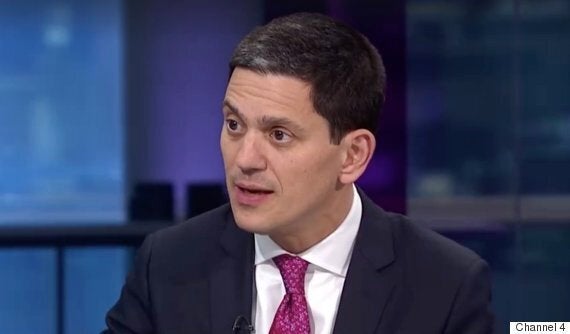 David Milliband spoke out on refugee numbers as he appeared on Channel 4 News
Miliband, 50, said that while the British approach has been "exemplary" in terms of aid, it is "sorely lacking" when is comes to refugee resettlement.
"I think that in a way people say - so is that the number you would advocate? For a start that would at least match what the Canadians have done, who are half [our] population.
"Now the only countries that are stepping up at the moment are Germany and Sweden, which has got its own problems. I think it's right to describe a British approach as exemplary in the international aid front, but sorely lacking when it comes to the refugee resettlement. The truth is you need both - not just from Britain but from countries right across the world."
Last year, Ukip's Susanne Evans warned that the country's schools and hospitals will reach "breaking point" if the "flood" of refugees from the Middle East and North Africa continued.
Speaking on BBC's Question Time, she said: "While in an ideal world we would want to find some way to accommodate them, the simple fact is that we can't.
"I'm sorry, we simply cannot take any more people."
Currently the UK is on track to take 20,000 refugees from Syria by 2020 - and campaigners want it to take 3,000 children from Europe.
The UK has already accepted about 1,000 refugees from Syria under the Vulnerable Persons Resettlement Programme, which the government expanded last year.
The Prime Minister wants to use today's conference to focus support on the neighbouring countries – most notably Jordan, Lebanon and Turkey – which are currently home to 4.6 million displaced Syrians.
He argues that providing opportunities to work and access to services is essential to persuading refugees to remain in the region and preventing another mass influx of people into Europe.
One of the aims of the conference will be to ensure there are school places for all refugee children in the region by 2017 as well helping the host countries to provide places for their own vulnerable youngsters.
Officials said they would also be looking to open up new trade and business opportunities for the host countries - which have been straining under the pressure - so that they will see a boost to their own economies as well as helping the for refugees.
Cameron has been pressing for the European Union to agree beneficial trade agreements similar to that which exists between the United States and Jordan which has generated £680,000 in trade for Jordan.
"With hundreds of thousands of people risking their lives crossing the Aegean or the Balkans, now is the time to take a new approach to the humanitarian disaster in Syria," the Prime Minister said.
Among the key figures attending the conference will be UN secretary general Ban Ki-moon, German chancellor Angela Merkel and US secretary of state John Kerry as well as the Iranian foreign minister Mohammad Javad Zarif and representatives of Russia and China.
Cameron is expected to take the opportunity to discuss his EU reform plan in bilateral meetings with European leaders attending the event, including Belgian prime minister Charles Michel, Greek premier Alexis Tsipras and Slovakia's Robert Fico.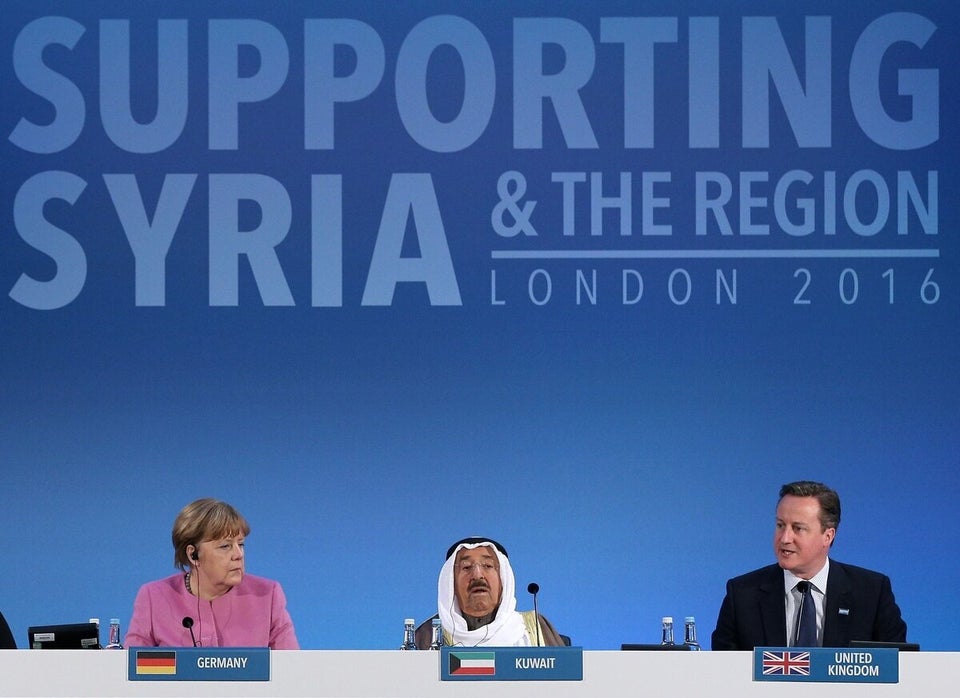 Syria Conference
Related