Many hit out at the lack of warning that the double-decker travelling across Lambeth Bridge which burst into flames was being filmed for new Jackie Chan film 'The Foreigner'.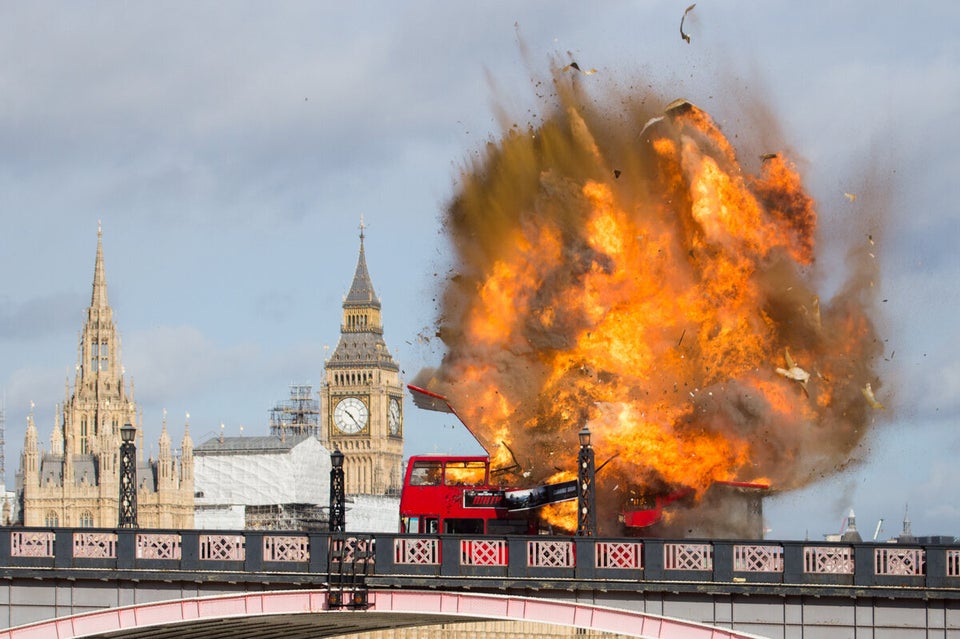 Lambeth Bus Bridge Explosion
John Taylor, whose 24-year-old daughter Carrie was killed in the 2005 terror attack on a number 30 bus, says he was told of the shoot in advance but not that an exploding bus would be involved.
He said the lack of communication was "insensitive" and claimed other 7/7 victims' families would have been left upset too.
"You can totally understand why some people would be alarmed seeing this today. Fair enough there is filming that goes on in the city but this seems particularly insensitive," Taylor told the Mirror.
"I know a lot of the families, of other victims and survivors, would be upset by this. Perhaps it wasn't thought through as much as it should have been."
7/7 hero Paul Dadge also condemned the Hollywood producers, saying survivors told of similar stunts in the past received no information this time around.
"Would have been VERY easy to inform those involved in 7/7 this was going to happen," he wrote on Twitter.
"Other films have been made that have comparisons (that) could be drawn to 7/7, survivors have ALWAYS been informed ahead. Very insensitive.
"Also hope London Fire Brigade were being paid to provide fire cover for the film."
Dadge and Taylor weren't the only people to recognise hallmarks of the decade-old terror attack, which killed 13 passengers and suicide bomber 18-year-old Hasib Hussain in Tavistock Square.
Others criticised the film crew and council bosses for not giving the general public enough warning.
Despite some measure being taken to provide notice of some sort of stunt in advance.
But clearly not enough for the National Police Air Service to be in on the information.
Pilots on the helicopter tweeted photos of Sunday's incident, saying they were "very worried" until they realised it was just a film stunt.