Footballer Adam Johnson on Wednesday pleaded guilty to one count of sexual activity with a child and one count of grooming on the first day of his trial.
The Sunderland winger admitted the charges at Bradford Crown Court, but continues to deny two charges of sexual activity with the 15-year-old girl.
The 28-year-old has previously denied three counts of sexual activity with a child and one count of grooming.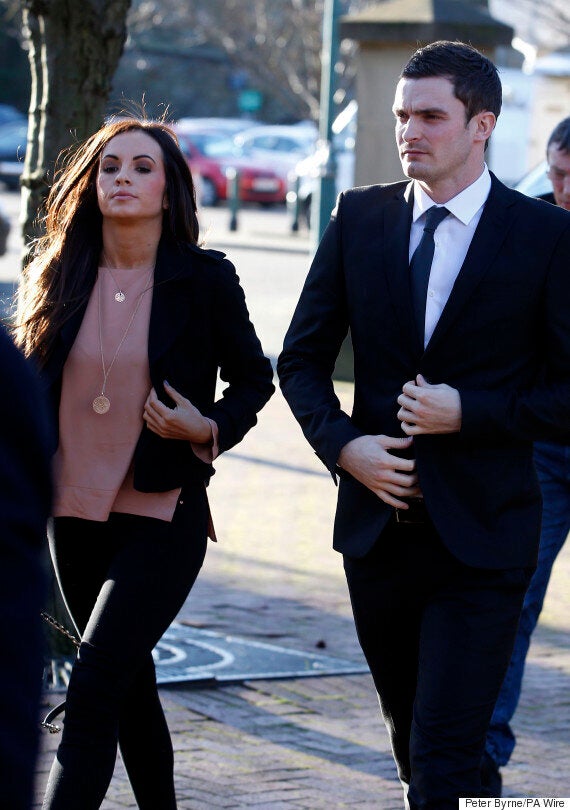 Adam Johnson arrives at Bradford Crown Court supported by his girlfriend Stacey Flounders
The charges Johnson admitted relate to a period between December 30, 2014 and February 26 ,2015. The sexual activity charge related to an incident on January 30, 2015 which involved him kissing and touching the youngster's body.
Judge Jonathan Rose told jurors that they may read about the case in the press, but should try Sunderland only on the evidence they hear in court. The case will be formally opened on Friday.
Judge Rose told jurors they must come to a decision on the remaining two charges, saying: "It will be for you and only you to determine if he is guilty or not guilty."
Kate Blackwell, QC for the prosecution, said that the alleged incidents had taken place in County Durham, in or about the area of Castle Eden and Wingate.
Johnson was arrested in March last year and was released on bail.
Born in Sunderland, Johnson began his career at Middlesbrough before moving to Manchester City and then to Sunderland for £10 million in 2012.
He has earned 12 caps for England.
Johnson's long-term girlfriend Stacey Flounders gave birth to their first child in January this year.
Popular in the Community