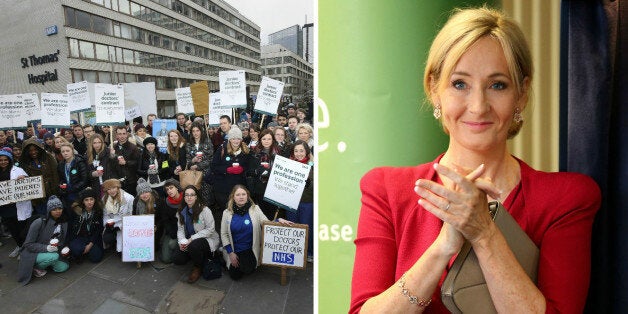 The Health Secretary has repeatedly criticised those staging a 24-hour walkout over proposed contract changes to medics' pay and hours, with the Department of Health today claiming: "Striking helps no-one".
But those claims have failed to win over Rowling, who proudly decried them and revealed she was backing the 40,000 junior doctors taking action today instead.
The 'Harry Potter' author, who is married to anaesthetist Neil Murray, said that "speaking as a doctor's wife", she supported the striking NHS staff.
She also posted a link to a blog post titled "Exhausted? Of course I am." written by a sympathetic striking doctor.
Part of it read: "I'm exhausted. Yes. And alone, perhaps, defeated. But I'm not alone.
"250,000 doctors in this country, 400,000 nurses, 150,000 allied health professionals. 19 million families. 66 million people.
"Dear other normal human beings, join us, and help save our NHS, if we can."
Rowling has previously spoken about the issue, tweeting back in October last year that she was "Standing with" those "protesting the Tories' junior contract".
Hunt has defended his government's push to reform how rostering and staffing levels at weekends by saying it will create a "truly seven-day NHS", one of the Conservatives' hallmark manifesto promises.
The MP maintains doctors' union the 'British Medical Association' has been "irresponsible" for "spreading misinformation" about how changes will affect workers.